Christian group takes up newspaper ad to protest possible anti-discrimination bill in HK
Hong Kong's Christian and family concern groups have responded fiercely against the territory's government's initiatives to look into possible legislation against discrimination of homosexuals. The Bill will cover equal access to employment, education, facilities and services but not same-sex marriage.

Although legislation against discrimination is currently little more than a distant possibility, the Hong Kong Alliance For Family, by an umbrella group of Christian and family" organisations and linked to The Society for Truth and Light took out four full-page advertisements in a local Chinese language paper on April 29 claiming that over 9000 individuals and more than 100 groups have signed a petition to express disapproval of the legislation. The groups believe that the Bill would unleash a dangerous tide of tolerance and upset society's values.

In another campaign, the Alliance, the Sex Culture Society and other groups have launched an "one person, one letter'' campaign to ensure their disapproval registers in government. Reportedly, almost 2,000 such letters have been sent to the Equal Opportunities Commission, the Home Affairs Bureau and the Chief Executive's Office.

The Home Affairs Bureau will conduct a telephone survey of some 2,000 people in June, selected at random, to gauge public attitudes towards homosexuals. It will also attempt to measure community attitudes towards the rights of gays, lesbians and bisexuals, such as access to spousal rights, welfare and public housing, as well as the legal age of consent, which is currently 21 for homosexuals and 18 for heterosexuals. On the basis of those findings, the government will decide whether Hong Kong is ready for change.

Meanwhile, HK gay group, Civil Rights for Sexual Diversities, has set up an online petition in support of the Sexual Orientation Discrimination Bill. The petition can be viewed/signed here: http://sign.cr4sd.org.

POST/READ COMMENTS

Hundreds protest at Focus on the Family HQ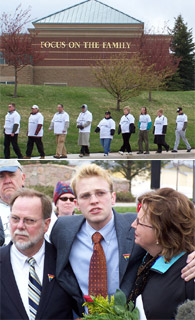 The Reitan Family attempted to deliver a letter to Focus on the Family but were arrested for trespassing.
About 800 gay-rights advocates gathered at the Focus on the Family Colorado Springs headquarters over the May Day weekend to show their contempt for the conservative Christian group's campaign against gay rights and same-sex marriage.
Focus on the Family, founded and led by Dr James Dobson, has vigorously opposed gay rights and same-sex marriages, urging voters during last year's election to vote for President Bush and in favour of same-sex marriage bans that passed in 11 states. The group also offers "Love Won Out" conferences to help "reform" homosexuals and last year campaigned for same-sex marriage bans in several states.
Rev Mel White, head of Soulforce, a gay-affirmative Christian group, which organised the rally, called the gathering an intervention for Dobson.
White said the rally was not intended to threaten or scare Dobson but to "set (Dobson) free from the lies that have him blinded."
Three people were arrested for trespassing on Monday, the second day of a two-day group protest of the ministry's stance on homosexuality. Philip Reitan, 57, Randi Reitan, 54, and their son, Jacob Reitan, 23, were attempting to deliver a letter to Focus founder Dobson when they were arrested on suspicion of misdemeanor trespassing. They are due in Colorado Springs municipal court May 23.
In related news, Republicans on Tuesday failed to get a constitutional ban on gay marriage on the November ballot after opponents called it an attempt to write discrimination into the state Constitution. The committee killed the measure on a 6-5 party line vote after Democrats said it was unconstitutional and would cost taxpayers to defend in court if it passed.
POST/READ COMMENTS