Based on a true life and headline-grabbing incident of police entrapment of a gay man for drug possession, Loo Zihan's Threshold which attracted its own share of controversy won the "Best Script" award at the inaugural Singapore Short Film Awards (SSFA) on Jan 31, 2010.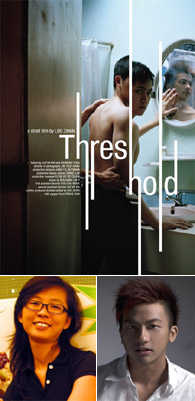 Above: Sun Koh and Loo Zihan (right)
Loo, who was then a student at Nanyang Technological University in Singapore, created a mini-stir last year when the media reported that he was 'protesting' when he said in his valedictory speech that his school has asked him to change the poster advertising Threshold, his final-year project. He told the media that the poster for the film had been deemed 'inappropriate' to be displayed during this convocation ceremony.
The 20-minute film, which was also nominated for "Best Cinematography" and "Best Soundtrack" at the awards, made the news on Fridae last year after it was pulled from the 6th annual Singapore Short Cuts festival at the last minute. Organisers National Museum and the Singapore Film Commission declined to comment on the matter when asked. (Read "'Tanjong Rhu' and 'Threshold' cut from short film festival in Singapore", linked below.)
Threshold has been partially funded by the proceeds from the Milk fundraiser organised by Fridae in Singapore early last year as the filmmaker was unable to raise funds from conventional sources due to the content of the films which touched on law enforcement issues.
The 27-year-old is currently pursuing his Masters degree at the School of the Art, Institute of Chicago and was unable to collect his award in person.
The SSFA is an initiative by The Substation and Objectifs Centre for Photography and Filmmaking to acknowledge and recognise the effort put in by both veteran and young filmmakers in the country. According to Ms Yuni Hadi, Partner of Objectifs Centre and independent film curator, the showcase provides "an overview of how much work has been done annually in the short film genre in Singapore. It gives us the opportunity to reflect our standards and spotlight new blood."
Two of the other eight winners at the SSFA are Tan Wei Keong, who won "Best Animation" for his 4-minute short film Hush Baby, and Sun Koh, who took home the evening's top two awards for "Best Fiction" and "Best Director".
With scenes appropriated from avant-garde French director Claire Denis's Nénette et Boni, Sun's Dirty Bitch locks her characters in the claustrophobic three-room flat of downtown Singapore and injects a sophisticated touch of French flair with blood-stained goriness and hip-hop rapping against the backdrop of Singapore's iconic landscape.
Dirty Bitch has since been shown to audiences at international festivals in Singapore, Rotterdam and Vancouver.
Such are the achievements of a few Singaporean filmmakers, who also happen to belong to the gay communities. Their talent and effort are being recognised both by the nation and internationally. While we have seen Anniversary by Alfian Sa'at and Royston Tan (who also won the SSFA Honorary Award), we look forward to the 2010 premiere of Sandcastle, the first feature film by the 2009 National Arts Council Young Artist Award recipient, Boo Junfeng.
Jun Zubillaga-Pow is a music and history writer and was also the programme coordinator of IndigNation 2009. He is currently a postgraduate researcher in Music at King's College London.