Singapore filmmakers Sun Koh and Royston Tan have lodged police reports about a local pastor's offensive comments about gay men and lesbians in an online video in which he interviewed an ex-lesbian. (Read more here.)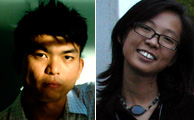 Singapore filmmakers Royston Tan and Sun Koh (right) found Pastor Rony Tan's remarks that "allowing homosexuality" will make people "want to get married to monkeys" to be very offensive.
The 80-minute video is hosted by Rony Tan of Lighthouse Evangelism, an independent church with 12,000 members. He had recently come under scrutiny by the Internal Security Department last Monday for comments he made during a church service about Buddhism and Taoism, which many people felt were offensive.
Koh told Fridae in an email that she had made a police report by telephone on Saturday night to flag instances of "gay-bashing that often goes unnoticed."
"I want to send a message that gays and lesbians in Singapore will no longer stay silent when provoked by religious groups that actively promote disinformation."
The 32-year-old, who won the Best Director and Best Fiction awards for her short film Dirty Bitch at the inaugural Singapore Short Film Awards last month, says she is hoping for a public apology from pastor Rony Tan and an assurance that he will refrain from spreading falsehoods about gays and lesbians in future. Last week, the pastor apologised to Buddhists and Taoists for denigrating their beliefs.
The video, which is believed to have been uploaded to the church's website in May last year but was removed from the homepage just one day after the apology was issued, had a new lease of life after it appeared on a blog maintained by Kenneth Tan (no relation to the pastor), a Singaporean working in Shanghai. In the video, the pastor attributed childhood abuse as a cause of homosexuality and linked gay people with paedophiles.
He further linked homosexuality with bestiality saying: "If you allow [homosexuality], next time people will want to get married to monkeys. And they will want rights. They'll want to apply for HDB [a colloquial term to mean a government subsidised flat]. With a donkey or a monkey or a dog and so on. It's very pathetic."
Royston Tan, a well known filmmaker (of 881 and 15: The Movie fame), told Fridae that as of Wednesday a total of 85 people, including Koh and himself, had lodged police reports. Fridae has been unable to verify the number.
He told Fridae he felt offended by some of the remarks in the video. On Saturday, he posted a comment on his Facebook profile saying that he had made a police report about the pastor's comments. Some friends followed suit and told him that they too had made similar police reports.
"This is not about revenge or gay rights but basic human respect," Royston said, adding that he was thoroughly disgusted by the pastor's reference to gay people wanting to marry animals. "As a religious leader, he has a greater responsibility than lay persons to create understanding and not mock or spread untruths about any groups of people."
Royston hopes for an apology and assurance from the pastor that he will not denigrate and spread further untruths about gay men and lesbians. Rony, who founded the Lighthouse Evangelism church in 1978, has since apologised for disparaging other religions on his church's website, and in a private meeting with the leaders of the Buddhist and Taoist communities.
According to Koh, she said she was informed by an officer from Tanglin Police Station that the police has received similar complaints about this incident and are investigating. The police has not responded to Fridae's email request about the status of the case at the time of this article's publication.
Lighthouse Evangelism on Thursday acknowledged receipt of Fridae's request for comment but did not respond by press time.
Time for the LGBT community to be a class of persons to be protected under the law? Singapore LGBTs respond
Members of the community Fridae spoke to over the long Chinese New Year weekend had mixed reactions about having to use the heavy hand of the law between religious groups and other groups including the LGBT community.
Russell Heng, a co-founder of Singapore's pioneer gay group People Like Us, says he prefers that the pastor's offensive views, which are not uncommon among certain churches in Singapore, be "debated and not regarded as a security threat that requires the intervention of a country's security apparatus."
Kenneth Tan, whose recent blog entry called out the pastor's mocking and misinformed remarks during the interview with an ex-lesbian and spurred Royston's decision to make a police report, says this would be a "good opportunity to kick-start a debate in the public square."
"Rony Tan and Lighthouse Evangelism (and many Christians) do not consider the ex-lesbian video offensive. This is something we should challenge – before the public thinks this case is 'resolved' and many already think so, or are sick and tired of hearing of the story," the Shanghai-based Singaporean told Fridae.
"The Sedition Act prohibits speech that promotes 'feelings of ill-will and hostility between different races or classes of the population of Singapore'. This will be a good opportunity to test the government just what it means by 'different classes'. Are sexual minorities considered a 'class'?"
Under Singapore's Sedition Act and Section 298 of the Penal Code, it is an offence to promote or attempt to promote hatred or ill-will between different religious or racial groups. Sexual orientation and gender identity however are not recognised as protected classes under the law.
A forty-something gay community leader, who wishes to only be identified as Kai En, says this might be an opportunity to establish gays and lesbians to be a class of persons to be protected under the law.
"It also informs the police that we as a community take this seriously."
This is a view echoed by Royston who says that the time has come for the gay community to stand up for itself and especially with support from straight allies. "To have over 80 people including straight allies make a stand by registering their objection to certain ideas being spread to the authorities is very symbolic. We are no longer passive; we will listen, digest and react," the 34-year-old told Fridae in a phone interview.
Miak Siew of Free Community Church, a gay-affirmative non-denominational church in Singapore, however warns of a backlash as publicity about the police reports will likely "create a siege mentality in certain quarters of the Christian community."
"Their reaction is not likely to be 'let's accept them', but 'we are being persecuted!' This has been observable in Thio Li Ann's and Yvonne Lee's reaction - even though they are actually the oppressors and persecutors, they are very quick to claim that they are the oppressed and the persecuted." He told Fridae in an email, referring to Thio, a former Nominated Member of Parliament who argued against the repeal of Singapore's gay sex laws in 2007 and Lee, a law professor who wrote in the media that the law should not be repealed as "homosexuality is offensive to the majority of citizens."
Siew, who is currently pursuing a master's degree in divinity at the Pacific School of Religion in Berkeley California, says LGBT people need to come out to disprove the myths.
"True harmony comes about from mutual understanding and dialogue, not from shutting people up. If people are silenced, it will only drive the talk underground, where it is harder for us to reason with, and to counter. It is only when the talk is public that we can show the falsehoods and misconceptions in what people say."
Kenneth added: "If the gay community doesn't choose to make its voice heard now, then we should forever hold our peace the next time another pastor comes along and says the same thing."
Rony Tan and Lighthouse Evangelism can be contacted via lightev@singnet.com.sg.