You probably haven't had the chance to see Prayers for Bobby unless you were lucky enough to have caught its original US TV showing on Lifetime network in January 2009. It's not on general release in Asia (it's either not a commercial proposition or is considered a film with a theme too controversial to show). You might have been able to pick it up at a film festival or in events like the joint celebration of this year's IDAHO by the British Embassy and the Beijing LGBT group, Queer Comrades. But if you're not in any of these categories, you'll just have to go out and buy the DVD when it's out, which will be soon.
I was among the lucky few in Hong Kong who managed to get a ticket for one of the three shows screened in June and July at Mongkok's Golden Harvest Cinema by the Boys' and Girls' Clubs Association (BGCA), which is using the film to showcase their work with Hong Kong's LGBT youth and their parents. The BGCA (one of Hong Kong's oldest NGOs, formed back in 1937) works through youth clubs and schools in a programme called Project Touch to reach out to gay and lesbian young people, offering them companionship and counselling. It also works with their parents, so this film is a perfect vehicle for them.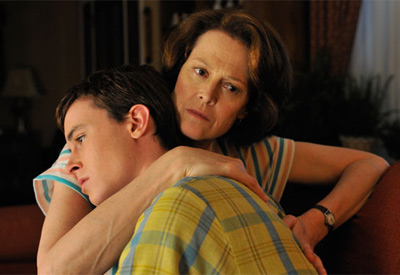 Sigourney Weaver plays Mary Griffith, now a prominent campaigner for the
US-based group Parents, Families & Friends of Lesbians and Gays (PFLAG),
who struggles to accept her young son Bobby being gay.

The movie is based on the true story Mary Griffith, now a prominent campaigner for the US NGO, Parents, Families & Friends of Lesbians and Gays (PFLAG). Her son, Bobby, was gay and committed suicide in 1983. Their story was featured in 1989 in the San Francisco Examiner, where it was read by Leroy Aarons, a journalist and founder of the US National Lesbian and Gay Journalists Association. He turned it into a book, Prayers for Bobby: a Mother's Coming to Terms with the Suicide of Her Gay Son, which came out in 1995 (and is still in print).
I will not spoil the story by giving a full summary of it here, but will give you enough of it to make clear why the BCGA picked it. Mary Griffith is played sensitively and powerfully (and she is, by all accounts, a powerful woman) by Sigourney Weaver, here in one of her finest performances. She dominates her family of all-too-accommodating husband (played by Canadian Henry Czemy) and four children using her evangelical Christian religion and the Bible with which it has armed her to impose an all-American conformity on her home. The slow awakening of her son, Bobby (played by the good-looking twenty-three year old actor Ryan Kelley) to the fact that he is gay shatters the world that Mary has built and tears the family apart. The mother ends up choosing religion over her son and in the process loses him entirely.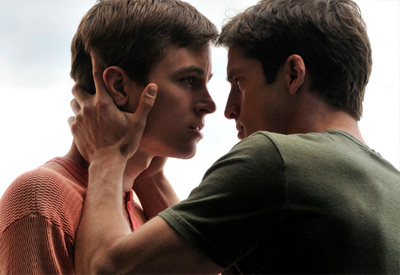 The film renders the tragedy at the heart of this tale very clearly. All the protagonists are caught in the trap of trying to live a 'good' life, but it is a life that is divorced from the reality of the world and so cannot stand. Mary chooses, she thinks, to try to save her son from eternal damnation by making him straight, something he cannot ever be, and her inevitable repudiation of what he is leads him to die gay and by his own hand, to be damned, in her literalist thinking, and so irrevocably separated from the love of his family. The tragedy is as much hers as it is her son's. For this part, Sigourney Weaver won a Trevor Life Award from the Trevor Project (that works to prevent teenage gay and lesbian suicides) and deserved it. Unless you're of the hardest disposition, I'd watch this film with a large box of tissues handy.
The movie is also very clear about the religious issues involved, something which is of great use in a place like Hong Kong, where Christianity, often of a very conservative kind, has a stranglehold over the school system. Mary Griffith's faith was based on what she believed was a literal interpretation of the Bible; this was the one she had been taught, and though she knew most of the Bible word for word, she had not been brought to see the inconsistencies within its pages, texts, for instance, that 'abominate' shell fish in the same breath as same-sex practices, or which throw equally lethal stones at issues long ago ignored like adultery as they do at men sleeping with men. Christian fundamentalists will never admit that the bits of the Bible they adhere to are actually a 'lifestyle choice' yet they can be prepared to adhere so rigidly to the texts they choose that they destroy the love that is supposed to be at the heart of their faith. Mary Griffith was brought to see this in the most horrible way, and in this lay her tragedy.
Viewers who often bridle (like this one) at Hollywood's usual dollops of sentiment may find parts of this film, particularly its end, a little too sappy, and those of us trapped in the tawdriness of Hong Kong's gay bar and disco venues may look a little agog at the film's reconstruction of the early 1980s gay disco scene in Portland, Oregon (in the film a place filled only with the amazingly beautiful bodies dancing to amazingly arousing music amidst swirls of light and clouds of mist; if only it were that way here, one gasps!). These are small criticisms, though, of a fine film, one that is worth watching not just for its message but for its superlative acting and riveting story.
Go out and buy that DVD!