The Malaysia Star reported that openly gay American Idol star Adam Lambert played to a full-house at his concert at the Putra Indoor Stadium in the Malaysian capital on Thursday night despite a peaceful protest outside the venue led by the conservative Pan-Malaysia Islamic Party (PAS).
Earlier this week, Lambert had pledged to tone down his performance in accordance to Malaysian government guidelines after Malaysian authorities gave his concert the go-ahead despite objections from the opposition Islamic party. The party had accused the singer to be "morally unfit" to perform in Malaysia and poses a threat to young people.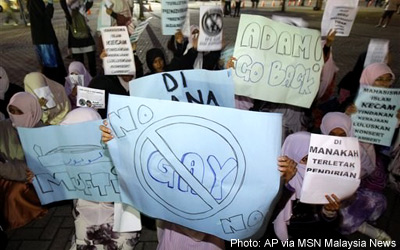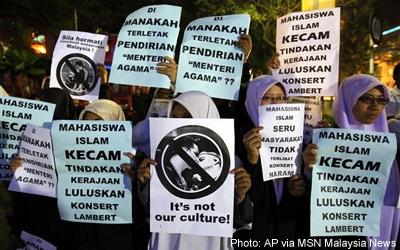 View more photos on MSN Malaysia News
According to the state-run Bernama news agency, PAS Youth chief Nasrudin Hassan said they were against the concert because it contradicted the eastern values, religious teaching, it was obscene and promoted the "gay" culture.
"Adam Lambert is an American artist who has become a gay icon. This is proven with man and man kissing on stage, a culture which should be rejected by Malaysians," he added.
The 28-year-old star created controversy with his performances, including at the American Music Awards where he simulated a sex act on stage and kissed a male keyboard player. Videos of Lambert kissing his male musician at many of his shows are widely available on the Internet.
"I think some people have a problem with me kissing a boy on stage," told reporters hours before the concert. "But you know, as much as I hate to compromise any time, it's more important for me to bring to the people of Malaysia my show… I'm just refraining from making one little kiss; I don't think it's that big of a deal."
In recent years, several female pop stars, including Gwen Stefani and Fergie, had to avoid skimpy costumes while performing in Malaysia.