Seoul
2013-10-04 - 2023-12-29
Singapore
2013-10-24 - 2013-10-29
Shanghai
2013-10-25 - 2013-10-26
Singapore
2013-10-25
Singapore
2013-10-26
Hong Kong
FREE - HOTTEST Guys, COOLEST Sport - Ice Skating/Hockey - Beginner Adults - Saturday
2013-10-26 - 2013-10-27
Hong Kong
FREE - HOTTEST Guys, COOLEST Sport - Ice Skating/Hockey - Beginner Adults - Saturday
2013-10-26 - 2013-10-27
Check out the new Agenda - Fridae's essential guide to all things happening in YOUR city. Post events for free (log in required)!

Comments
To subscribe / unsubscribe
click here. (log in required)

News / Features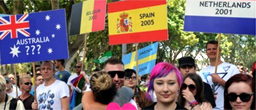 News
Australian Capital Territory first to legalise same-sex marriage

The Australian Capital Territory has become the first jurisdiction in Australia to legalise same-sex marriage.


News
Vienna and Berlin tourist boards to target Asian LGBT travelers at expo in Singapore

The Vienna Tourist Board and visitBerlin will launch a first-of-its-kind bid to attract Asian LGBT travelers at ITB Asia, a trade show for the Asian travel market, to be held in Singapore from Oct 23-25.


Entertainment
US teacher crowned Mr Gay Hong Kong 2013

Michael Morrill, an American who has been living in Asia for 10 years, was announced as the winner of the 2013 Mr Gay Hong Kong competition held at Armani Prive on Saturday night.


Entertainment
Watch "Out There", Stephen Fry's global documentary on being gay and homophobia

English actor Stephen Fry has spent the last two years travelling the world, interviewing LGBT people and challenging those who radically oppose the acceptance – or even the existence – of LGBT people.


News
Phuket to host 3-gay gay party festival, Oct 18 - 20

Glow Phuket 2013 is reportedly one of the first gay events to receive sponsorship from the Tourism Authority of Thailand, according to a local newspaper.


Sex and Living
A heartfelt letter from a Christian woman to her long-lost gay friend... 12 years late

"I'm so sorry to be so late in my understanding... Today, I'm an out of the closet Christian that supports homosexuality... I pray and hope you would somehow read about my apology letter to you and give me another chance as a friend," writes a Christian woman – originally from Singapore – to her long-lost gay friend whom she had rejected 12 years ago.


Zone:

Choosing your sex helmet
Not all condoms are created equally, and preferences vary from person to person. If you haven't done much research, read on as our writer Nicholas Deroose conducted a casual poll among 30 of his gay friends and tested five of the most popular.




Featured Profiles


Fridae Shop
What's hot this week!
Gun Oil Force Recon US$15.99