Welcome to the Fridae Newsletter. We've got all the latest news, events, reports, and interviews concerning LGBT issues in Asia. Enjoy!
Subscription
To subscribe / unsubscribe
click here. (log in required)

News / Features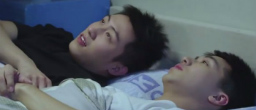 News
China bans depictions of gay people on television

The Chinese government has banned "vulgar, immoral and unhealthy content" from television, including homosexuality, adultery, cleavages and reincarnation.


News
McCafé Taiwan releases heartwarming coming-out advertisement

Religious fundamentalists are calling for a boycott of McDonald's after the release of a tender advertisement in which a man comes out to his father.


News
At least 300,000 attend Sydney's Mardi Gras Parade

A record crowd turned out to watch 12,000 marchers and 175 floats in the Australian city's largest gay pride event


News
International marketing agency set up LGBT employee network in Hong Kong

Ogilvy & Mathy (O&M) have set up a network to champion diversity in the workplace and to liaise with clients speaking to tap LGBT audience.


News
Indonesia psychiatrists label homosexuality, bisexuality and transgender as mental disorders

Indonesia's leading psychiatric body says that LGBT can be cured through proper treatment.


Travel
Japanese city looking to attract LGBT travelers

Nara, the ancient capital of Japan has announced that it will be earmarking funds to attract LGBT travellers from within the country and abroad.


Lifestyle