First staged in the 1990s, Mergers & Accusations and Wills & Secession made a huge impact on the Singapore theatre scene and in the gay and lesbian community. Mergers chronicles an ambitious lesbian lawyer's double life in conservative Singapore where she marries her best friend in a "marriage of convenience" that presents her with the best of both worlds - a socially respectable position, and a husband who accepts her sexual orientation.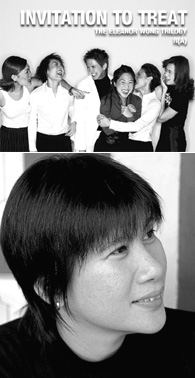 Singapore lawyer-playwright, Eleanor Wong
In
Wills
, Ellen Toh, the lawyer returns to Singapore after her mother's death and is forced to deal with her sister who disapproves of the lifestyle she is leading and is forced to re-evaluate her own prejudices & learn to accept her own family for what & who they are.
In
Jointly & Severably
, the third and final instalment, Ellen's partner Elizabeth dumps her for her daughter's best friend, Natalie. To make matters worse, Natalie is Elizabeth's research assistant and the authorities discover their illicit relationship.
æ:
Hi Eleanor, congratulations on your upcoming production,
Jointly & Severably
, the much-anticipated final instalment of
Invitation to Treat
, which is also Singapore's first TRILOGY of plays. Can you share how and when you come to this project, and your main impetus to embark on this journey over a decade?
eleanor: Wow. Long story question! I wrote M & A [
Mergers & Accusations
] when I was part of the 1992 Theatreworks Writers Lab conducted by David Britten. At first, I had set myself a project to turn a one-acter which I had written (
To Touch the Soul of a God
) into a full-length play. But I kept procrastinating. One day, Keng Sen called me up and asked me why I didn't seem to be able to get started. Chatting with him, I realised that I had this other story inside me that I wanted to get out even though I hadn't articulated the thought to myself until then. Once it became clear that this was the story to tell, it was all systems go and M & A got written in 2 weekends. Looking back, I realise that many of my earlier pieces - about the strictures of moral rectitude (
Peter's Passionate Pursuit
), about being true to oneself (
To Touch
), about the dangers of masks (
Jackson on a Jaunt
) - were echoes of the themes I wanted to explore through the eyes of a lesbian protagonist like Ellen [Toh].
As for the other two. Well, soon after I wrote M & A, Keng Sen encouraged me to think of writing a sequel - which was
Wills
[
& Secession
]. And, of course, in
Wills
, I developed the theme of religion "versus" love a little further.
And
Jointly
[& Severably] - phew! I knew after Wills that the story had a third part to it. I wanted to explore the issue of long-term relationships but I guess I needed to get a little older to do it, hence the time lag.
My main impetus - to enlarge the sphere of understanding, to celebrate diversity. It is natural for majority cultures to miss the differences right in front of them sometimes or to fear and therefore reject that difference. We impoverish ourselves when we do that - whether the minorities we shun are racial, ethnic, religious, political or sexual.
æ:
You are known to openly discuss gay rights in Singapore (still fresh in our minds is the first episode of your recent
Sex, Rights & Videotape
radio programme where "unnatural" sex between members of the same-sex was discussed). We also know that you were a high-flying lawyer for years before becoming a law lecturer in NUS. How much of the three plays is autobiographical? How much of Ellen Toh is Eleanor Wong?
eleanor: There's a lot of myself in all my plays - and not always in the places you might expect just by looking at the characters. I wouldn't call the plays autobiographical and I hope my friends and loved ones will confirm that I'm not quite as angst-ridden as Ellen Toh. (Yes, I am deliberately being a little coy here! :-) )
One of those fascinating twists - the fact that Zee, Ellen's long-term lover in Jointly, is a university lecturer was decided in my mind years before I joined NUS! So perhaps it is my life following my writing rather than the other way around!
æ:
You've been working on
Jointly & Severably
for seven years. Do you feel relieved now that it's done?
eleanor: Well, the folks who work with me will tell you that I wasn't exactly churning out draft after draft in those seven years. I guess I tend to mull over things and do nothing until the time is upon me, so to speak.
Relief is not one of the emotions I'm feeling right now. Excitement, anticipation, humility (at the talented collaborators who have seen fit to align themselves with this project), trepidation. Those are the things that come to mind!
---
æ:
The lead cast members are heterosexual; did you at any point consider seeking lesbians to play the lesbian roles?
eleanor: Claire [Wong, director] and I had an exhilarating (and tiring) set of open auditions for the cast. We neither specifically went out there looking for straight or for lesbian actresses. We were just looking for actresses who could bring these characters to life and I know, you will agree we did very well indeed on that score. Besides, who's pigeonholing my lovely cast as straight (or irretrievably heterosexual)? Tut-tut. :-)
æ:
Did the cast find it difficult to get into their roles? Is there a lot of discussion relating to (homo)sexuality during rehearsals and get-togethers? Any interesting titbits to share?
eleanor: Sitting through the rehearsals, it's clear to me that acting is a demanding and incredibly challenging profession. To get into their roles, the actors definitely did their research (you'll have to get them to kiss and tell :-)). More importantly, what they do (and do wonderfully) is to reach for understanding and then find the bridges between their own experiences and emotions and the lives of their characters so as to give reality and credibility to their portrayals. In an interesting way, you could say the process of reaching out (through these plays) started right from the first read.
æ:
Do you think that any parts of your plays are too explicit for the Singapore audience - what were you main concerns when addressing these issues?
eleanor: I don't think there's one "Singapore audience". I think there are just people some of whom may be ready/prepared to engage in a dialogue on these issues and others who may not. I hope there are many who are ready to engage. We won't know till the plays are launched, I guess.
æ:
Did you experience any adverse reaction from the authorities or the public while staging the first two plays a decade ago and the third one now?
eleanor: I haven't received any direct adverse reaction from either the authorities or individual members of the public. I do recall an early performance of
Wills
when someone (who shall remain unnamed and whom I know enjoyed
Mergers
) walked out - perhaps because
Wills
was so much more "in your face", especially about religion. I also recall that when we were producing
Wills
, we were a little concerned that the religious theme might evoke reaction. But I can't say that there were any actual instances of bad reaction that I know of.
Having said that, I would not be unhappy to hear of "adverse" reaction - any kind of reaction indicates engagement. And we grow as much from approving interactions as from dealing with the ones that aren't so easy.
æ:
What do you hope to achieve with the three plays? Do you consider them primarily gay plays for a gay audience or plays with a gay theme for everyone or somewhere in between? Who is the primary audience you want to engage and what's the take home message?
eleanor: Big, big questions. I don't want to sound naive but I hope we don't need to make those distinctions. I hope we don't have to bifurcate our audiences into gay "versus" straight.
One of the interesting things I've found is that different people have different entry points into the pieces. And our apparent "divisions" and "similarities" don't always fall along the lines we might expect. An actor who did not identify with the gay theme nevertheless found that the plays resonated strongly because, on a larger level, they might just as well be talking about racial or political minorities, and how Singapore deals with difference in those other areas.
In other words, I would rather not pre-judge the audience. The pieces are an offering - an Invitation to Treat, if you will - and I welcome all who might take something away from them.
---
æ:
Do you think gay relationships - without the "structure" of heterosexual ones typically marked by marriage and having children - have a larger tendency of breaking up over the long term?
eleanor: I think all relationships have a tendency to break up over the longer term if the parties don't work at it. I do think more conventional models have all kinds of internal and external frameworks to help keep the relationship going a little longer - often without the participants consciously thinking/working at it. Of course, once those frameworks fall apart, often the relationships do as well.
I've been thinking lately that, as technology reaches a point where we will be able to prolong our lives by quite a bit, the conventional world may well find itself facing the same pressures that gay couples do from Day 1. What happens to a heterosexual couple at 60 when the likelihood of a further 60 years of life is no longer a fantasy? And I wonder if, in a bizarre way, it will be the gay community that will have much insight to share, indeed to take a leadership position, on this question... Now wouldn't that be fun?
On the attitudes of Singaporeans and homosexuality
æ:
It's been a decade since you staged the first two plays. How much do you think the Singapore arts scene has changed - in terms of societal tolerance of homosexuality, censorship and audience attitudes?
eleanor: How much is a tough question to answer. Changed? Definitely. Direction of change? Definitely towards greater tolerance of arguably controversial topics. How much? I suspect it depends on whether you're a cup full or cup empty kind of person.
æ:
You have also been a host of a night time talk show that was known for discussing taboo (at least for Singapore television standards) topics in a tone, that dare I say, has been quite positive (again comparing to current Singapore television standards). While hosting the programme, what did you learn about the mindset of Singaporeans regarding homosexuality and sexuality in general?
eleanor: Gosh. I would hardly presume to comment on the mindset of Singaporeans. What I will say, though, is that we were able to have pretty open, frank and respectful discussions on these topics. Our guests and callers had different views but expressed them civilly and intelligently.
æ:
Do you think Singaporeans have made "acceptable" progress in the last decade?
eleanor: Wah. This is the tough questions section, huh? I guess I would just say that "acceptable" depends on who you are and what you wanted to start with. For myself, I am acutely aware that we all come from different places and that we must respect where everyone comes from. That's the starting point of engagement. I try to make as few judgments as possible about whether a certain directional movement is progressing or regressing.
æ:
Because of your efforts bringing gay issues to the forefront, you've also become sort of an icon in the local gay and lesbian community, what do you think about it?
eleanor: I'm honoured by the regard. And hope that it is based on an understanding that, whatever the issue, we are served by open and honest engagement.
æ:
Now that it's case closed with
Invitation to Treat
, what are you working on next?
eleanor: Adoi! It doesn't feel at all like case closed yet. I shall only feel that way after the last performance.
æ:
Thanks for talking with me and I hope all of Fridae's readers attend
Invitation to Treat
!
eleanor: Me too!
Mergers & Accusations/Wills & Secessions Double Bill
Date: 05 Apr, 3pm & 8pm; 06 Apr, 3pm & 8pm; 13, 19 & 20 Apr 2003, 3pm
World Premiere of Jointly & Severably
Date: 9 April 2003 (Preview)/ 10 to 26 April 2003
Venue: Jubilee Hall, Raffles Hotel, Singapore
Time: 8 pm (Tuesday to Sunday)
3 pm (Saturday and Sunday)
No shows on Monday
Tickets: $25 (Preview)
$30 and $35 *
$40 and $45 **
Get 10% off all $40 & $45 tickets to Invitation to Treat, the complete trilogy of plays by lawyer and acclaimed playwright Eleanor Wong with this printout!