Bao Bei is Singaporean artist Jason Wee's new presentation that looks at the ways through which identity is reconstructed through gay online personal ads. Jason is currently pursuing a two-year Masters programme in Fine Arts at Parsons School of Design (New York), specialising in photography and related technologies on a Shell-NAC Scholarship. Prior to moving to New York, he started OogaChaga, a network of support groups for young gay people in Singapore, with two friends. (The GROUP is currently conducting its tenth 'sequel' for gay men aged 30 and above. Applications will close on May 21. For more info, please write to bryan@oogachaga.com.)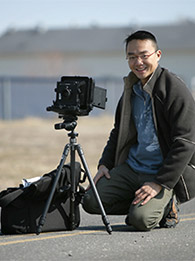 æ: ASOL (Age, Sex, Occupation, Location)
Jason: 27, Male, artist, based in New York.

æ: What's your "look"?
Jason: My look is a glance, a furtive turn of the head. In New York, I get to pretend to be a flaneur, lightly observing a city that takes itself very seriously.

æ: What are you currently occupied with?
Jason: Softblow, a poetry journal I am co-editor of, and preparing for my new studio at the Whitney Museum and the current exhibition.

æ: Gay online personal ads is a fascinating aspect of gay culture. Until the Internet became accessible to nearly every household, carefully-worded gay personal ads were predominantly found in mainstream newspapers and magazines as gay men and lesbians tried to find each other discreetly. Today, despite HAVING heaps more social avenues and opportunities to meet each other, gay personals sites are growing exponentially as more use them to spell out their every detail and desire. What do you think "advertisers" are looking for and if things have changed at all?
Jason: I think the self-promotion varies FROM site to site, and country to country. One thing that has changed is the entrepreneurial commercial services that are offered on some personal pages, where the photographs shown are not so much self-portraits as they are advertising portfolios for the person's photographic studio. A number of them operate on Fridae, for example, some of whom are quite technically accomplished, and I noticed that there are more and more of such images that adopt the tropes and vocabulary of the fashion spread, modeling portfolio, vanity essays and advertorials. More Glam Sams, so to speak, among the Singaporeans. Just for comparison, the users on some American East Coast sites are more sceptical of these artifices (studio poses, costuming, airbrushing, art direction) and prefer a look that individuals insist maintain a greater likeness to the individual they might like to meet. Or perhaps it says something about the way we have made our identities, that the artifice of glamour and gloss reflects better our realities?

æ: Many personals site users have their photographs and other personal details on web sites they would not consider publishing in a magazine or posting on a physical bulletin board. In this regard, how does one reconstruct his/her identity through online personal ads and how do online ads affect the way individual identities are reconstructed?
Jason: I think the form letters provided influence the representations of the site members more than they are conscious of. Here is where I think technical design considerations meets cultural constructions. For example, Fridae is the first local site in my memory to offer the options for different couplehood status, FROM 'monogamous' to 'open'. The site members' choice to truthfully represent their status is another matter. Sites also vary and control the amount of page space devoted to freer expression, by limiting the number of characters permitted for self-description, for example, or choosing to include blogging capabilities, and also by the type of events the site encourages or organizes. For example, some sites organise only sex-oriented events; so consequently, sexually adventurous profiles form a strong locus of attention.

The race category is a particular sensitive one for me. Some site have vary limited options, and to my memory, none yet allows under 'race' potential for self-definition, which is increasingly necessary for those 'Others' for whom that description is becoming a catch-all 'none of the above'. And 'mixed' doesn't suffice either. It implies too many questions about racial purity and definitions. Imagine that hypothetically Tiger Woods is gay (I am not saying he is!) - he will have to choose to be represented as either African-American or Thai on many sites, but not both at once.

æ: Your exhibition blurb states, "artist Jason Wee looks at the ways through which identity is reconstructed through online personal ads. In particular, photographic self-portraits found online are scrutinised for their codes and tropes, and how these tropes may reveal the affects and consequences of larger political forces." What are these "codes and tropes?" Can you also tell readers more about the "larger political forces" and how they affect those self-portraits?
Jason: I am using online self-portraits to recreate a scene FROM the late Singapore playwright, Kuo Pao Kun's, Descendents of the Eunuch Admiral. Incidentally, this is the 600th anniversary of the eunuch Admiral Cheng Ho's first voyage. He is said to have traveled FROM the east coast of Africa to Australasia, during the Ming dynasty. He is interesting for me as a triple-minority - a non-Han in a Han-dominated government, a Muslim and a eunuch.

The chamber I recreate is the chamber of treasures or baobei, which is the title of my show. It is a mythical room in which the penises of the eunuchs were boxed and hung at respective heights. The larger political forces? I have to nod here in Pao Kun's direction, since his play, written more than a decade ago, points to the same sort of issues that concern me in this show, questions of identity, sacrifice and empire, relationships between the individual and the state, the agency available to figures on the margin and how the symbolic castration occurs.

æ: You are now at the Parsons School of Design (New York) doing a Masters programme in Fine Arts after graduating with an honours degree in Political Science FROM the National University of Singapore last year. In an interview, you said that you see visual art and photography as "a way of framing and interrogating the world", including "opening up gee-whiz technology to examine and comment on its social influences and affects". For those not familiar with your works, what are the more interesting works you've done in response to censorship, and other gay-related issues and what inspired them?
Jason: Let's see, I've done a series around the time the Singapore government (have you notice that the local papers capitalise 'Government' as though there can be no other?) decided to support the US-led war in Iraq. I dressed my alter ego up in office attire and had him slap various national monuments around Singapore, and photographed the action, the same way that Iraqis were photographed slapping statues and images after the fall of Baghdad. My crew and I had some fantastic memories - we were chased FROM the Merlion by a zealous tour guide with a loudhailer in the early morning shoots!

Also, I recreated as photographs cultural works that were previously censored, such as Justin Lee's flag painting, Sex and the City, the movie The Hours and Royston Tan's 15. Ryan McGinley, for example, (a Parsons grad!) had his photograph in i-D magazine systemically sliced FROM every issue sold and repackaged by MDA. It was a picture of him liplocked with his boyfriend.
---
æ: Have you encountered any difficulties in exhibiting in Singapore?
Jason: Aiya, work around them lor. Like I tell a friend of mine, its a dance, they take one step towards me, I take one step to the side. As any woman in an opposite-sex dance will tell you, it is about giving your dance partner the illusion that he is leading the movements.

æ: What's in your gear bag? Do you always have a camera with you?
Jason: Yes, I always have a camera with me, nowadays, but that's only because I have a phone-camera. I just bought my first 4x5 large format camera, which I have lately fallen in love with. I always have my sketchbook, a pen, a book to read, now it's Giorgio Agamben's The Coming Community and Haruki Murakami's short stories. My trusty laptop.

æ: What is your earliest childhood memory?
Jason: Laughing in my grandmother's arms, in a yellow shirt, no hair, and white cloth diapers. I was younger than one.

æ: What is the achievement you are most proud of?
Jason: The family of my own making.

æ: How are you misunderstood?
Jason: In the top/bottom guessing game. I thought that should have gone the way of backgammon and gin rummy - who plays them?

æ: How do you spend your Sundays?
Jason: Sunday afternoons, I spend with close friends, or my partner, Clarence, and in the evenings I visit my grandmother, who I am out to, who at seventy-four years old, loves me to death by attempting to overfeed me.

æ: Tell us one of your fantasies.
Jason: I fantasised about a galaxy far, far away, where the emperor is vanquished, the empire ended, and the Force restored. ;)

æ: What do you think is important in a relationship?
Jason: Fighting fair and honestly. Never let a fight last more than a day.

æ: What (or who) turns you on?
Jason: Someone not like me.

æ: What's your biggest guilty pleasure?
Jason: Chocolate, and lots of other 'instant pleasures' which, in the words of Rufus Wainwright, 'for several reasons we won't mention'.

æ: Tell us about a cause that you support?
Jason: OogaChaga, a network of support groups for young gay people, mostly. I started it with two friends, Steve Wong and Kenneth Lau, and I've since passed the program to other individuals that are doing a tremendous job. They are running OC's tenth 'sequel' now, I believe.

æ: Who would your dream date be if you were straight for a day?
Jason: But I don't want to be straight for a day! I want to be who I am and out with anyone of the ladies FROM the movie 8 women.

æ: Tell us something even your mother doesn't know.
Jason: That I sleep with... oh wait, she knows that already.

BAO BEI is showing at The Substation Gallery, 45 Armenian Street, FROM 12- 19 May. Open FROM 11am-9pm daily. Admission is free. Phone +65 6337 7535