The National Arts Council of Singapore has honoured Fridae, Asia's largest gay and lesbian web site, with an Arts Supporter Award. Presented this week, the Patron of the Arts Award recognises cash and in-kind sponsorships by the private sector. Recipients of the Arts Supporter Award must have contributed between S$10,000 to S$49,999.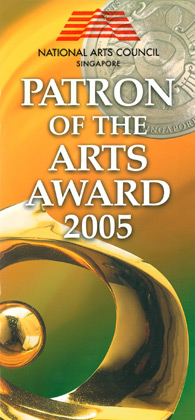 Dr Lee Boon Yang, Minister for Information, Communications and the Arts, gave out over 200 awards in recognition of the S$29.5 million collected in 2004 from various corporate sponsors at a special ceremony held at the Esplanade on Tuesday night.
Fridae is currently the Official Online Media for
Quills
which opens this weekend. The bold theatrical production by Luna-id Theatre is about the notorious Marquis de Sade who was imprisoned for writing erotic novels at the turn of the eighteenth century.
Christian Huber, Artistic Director and Producer of Luna-id, and winner of the Best Director award at the inaugural LIFE! Theatre Awards in 2000 says, "Fridae's support as our Official Online Media for
Quills
has given our production an extra boost in awareness and attention. Their belief in our goals and their trust in our convictions have given them a truly worthy award for supporting the arts community!"
The five-year-old web site has been a keen supporter of the arts since 2003 when it was appointed the Official Gay Media for
Beautiful Thing
presented by Toy Factory and
Mardi Gras
by The Necessary Stage.
In 2004, Fridae organised the Nation Arts Programme in August 04 to coincide with the Nation party, which included
Mardi Gras
and
Top or Bottom
(The Necessary Stage),
The Revenge of the Dim Sum Dollies
(Dream Academy),
Mergers & Wills
(Toy Factory) and three art exhibitions.
Fridae believes strongly that a thriving arts community plays an important role for any kind of public exchange especially for subjects that are considered taboo by some and which might be otherwise be difficult to initiate. "We are proud to be able to support and facilitate more dialogue about the LGBT community and society at large," says Dr Stuart Koe, CEO of Fridae.
Goh Boon Teck, Chief Artistic Director of Toy Factory, one of Singapore's most gutsy and prominent theatre companies, said that he appreciates working with Fridae whom he described as a "creative, transcending and competent portal in Asia."
The multi-talented playwright, director, set and stage designer said, "We believe that inspirations should be promoted through spirited organisations like Fridae. We have indeed benefited from Fridae's coverage and its ardent members."
Fridae's recent collaboration with Toy Factory,
Porcelain
, which was written by Chay Yew - a Singapore-born, LA-based playwright - achieved 90 per cent of house.
The play, which centres on a gay Asian man who murders his Caucasian lover in a London public lavatory, was first written in 1989 but had to be shelved for several years as no student wanted to audition for the production. Despite being bestowed the prestigious London Fringe Award for Best Play in 1992, it was refused a licence a decade later when a Singapore theatre applied for a permit to stage it. Toy Factory, however, managed to secure a permit for it in 2005.
Goh, who received the prestigious National Arts Council Young Artist Award in 2001 and an award for Best Set Design in 2003, added, "There is a saying in the West End that without theatre, there is no contemporary London; which happens to be the most hip and progressive city in the world.
"Theatre arts aids to shape a forward thinking society, it brings forth challenging issues and misunderstood concepts in light. To understand and accept gay culture, theatre, as a softer media, helps to guide the conservatives and de-contradict all public interests."
Although LGBT voices and themes have found their place in the theatre scene since the early 1990s with plays such as Michael Chiang's
Private Parts
and Eleanor Wong's
Mergers & Accusations
, it is only with "new media" such as Fridae that theatre companies can openly promote their productions to a targeted readership.
The following are productions that Fridae has supported/sponsored in Singapore:
-
Mardi Gras
(2004) - The Necessary Stage
-
Top or Bottom
(2004) - The Necessary Stage
-
Dim Sum Dollies
(2004) - Dream Academy
-
Mergers & Wills
(in Chinese, 2004) - Toy Factory
-
The Visit of the Tai Tai
(2004) - Wildrice
-
Spy & Ego
(2004) - Ecnad Project
-
Spring Singing
(2004) - Toy Factory
-
Porcelain
(2005) - Toy Factory
-
Happy
(2005) - Drama Box
-
Fireball
(2005) - Ecnad Project
-
Reminiscing the Moon
(2005) Singapore Dance Theatre
-
Quills
(2005) - Luna-id Theatre