Wouter Barendrecht, founder and Executive Director of the Hong Kong Lesbian and Gay Film & Video Film Festival, died on Sunday, Apr 5, 2009 of heart failure. He was 43.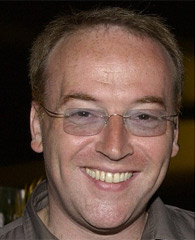 Wouter Barendrecht, founder and Executive Director of the Hong Kong Lesbian and Gay Film & Video Film Festival; and co-founder and chairman of Fortissmo Films.
In a statement released by Fortissmo Films which Barendrecht co-founded and served as its co-chairman, the Dutchman in Bangkok where he had a second home to screen a rough cut of Pen-ek Ratanaruang's
Nymph
, which is co-produced by his company.
(Even if Fortissmo is not a familiar name to readers, many would have seen the gay arthouse favourites the company had distributed including Wong Kar-wai's
Happy Together
,
Iron Ladies
1 & 2 (directed by Yongyooth Thongkonthun), Ray Yeung's
Cut Sleeve Boys
, Gregg Araki's
Mysterious Skin
, Tony Ayres's
Walking on Water
, amongst others.)
Barendrecht founded the Hong Kong Lesbian and Gay Film Festival in 1989 - the first festival of its kind in Asia. It is currently the longest running gay festival of any kind in Asia.
He has also notably worked closely with several Asian directors including Wong Kar-wai of Hong Kong, whose
In The Mood For Love
he produced, Pen-ek Ratanaruang and Apichatpong Weerasethakul of Thailand, and Zhang Yang of China.
The statement read: "Barendrecht's vision helped a generation of film-makers reach a global audience, particularly in Asia where he moved to Hong Kong in 1997 upon the advice of acclaimed director Wong Kar-wai to set up the Fortissimo office along with subsequent business partner and co-chairman Michael J Werner. His commitment to Thai cinema, for example, led to repeated collaborations with directors such as Pen-ek Ratanaruang and Apichatpong Weerasethakul and his decision to establish a second home in Bangkok, where he died on Sunday night.
"Barendrecht's passing has shocked and saddened all his colleagues, his family, and his friends around the globe. His death comes shortly after a busy Filmart in Hong Kong for the company, and preparing for Fortissimo's upcoming Cannes slate."
Fortissimo's co-chairman Michael J Werner said: "We are all too shocked for words by Wouter's untimely death. He was a force of nature, my business partner, and one of the closest friends anyone could ever have. We at Fortissimo are all devastated by this news and we intend to celebrate Wouter's life and work by proudly carrying on his vision of the company and the business."
Barendrecht founded the Hong Kong and Amsterdam-based production, sales and distribution company with Werner in 1991 and has since 1997 lived chiefly in Hong Kong where he ran the company's Asian subsidiary. According to his biography on Fortissino's web site, he started has served on international juries (Berlin, Sarajevo, Edinburgh, Sydney and Jerusalem) and was together with Werner awarded an Award of Excellence for their significant achievements in promoting and bringing Asian cinema to the World by CineAsia 2007. In 2008, Barendrecht was honored at the Industry Toast of the Hamptons International Film Festival and indieWIRE for his "energy, vision, and acumen that has enhanced the industry and the art of film to greater heights."