It's Asia's oldest and biggest lesbian and gay film festival! The Hong Kong Lesbian & Gay Film Festival 2009 (HKLGFF) will last 12 days and over 50 screenings will be held at Palace IFC in Central, Broadway Cinematheque in Yau Ma Tei and AMC Festival Walk in Kowloon Tong.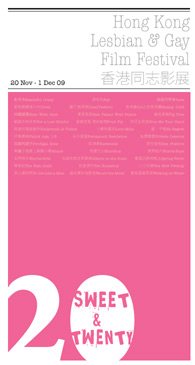 The festival is helmed by Joe Lam, publisher and creative director of Hong Kong's gay DS Magazine & Q Guide, who had taken over from Vicci Ho. This is Lam's first year as the festival director although he has been part of the HKLGFF team fundraising, organising events and designing the festival programme guide for the last four years.
The festival will feature several themes including "World AIDS Movies Day" on Nov 19 where four films - Fig Trees, Sex Positive, Walking on Water and The New Twenty - have been selected to awareness of HIV Prevention and lessen discrimination for patients.
The HKLGFF society will also pay tribute to executive director Wouter Barendrecht who passed away in April this year. Barendrecht was instrumental in the revival of the HKLGFF in 1999 and is described as a tireless champion of LGBT Asian cinema as the co-chairman of Fortissimo Films which brought Asian queer films such as Formula 17, Happy Together, No Regret, The Iron Ladies to audiences across the globe. A special programme "In Memory of Wouter" which includes For the Lost Solider, Walking on Water, East Palace, West Place, No Regret and Shortbus has been created to remember and honour him. Barendrecht will also be posthumously awarded the Prism Award at the festival this year.
Fridae is a online media sponsor of the Hong Kong Lesbian & Gay Film Festival.
---
Opening movies: Spring Fever (China), Beautiful Crazy (Taiwan)
Spring Fever sees two men and one woman entangled in complicated romantic relationships in an unforeseen love triangle. The film won the Best Screenplay at the 2009 Cannes Film Festival. Director Lou Ye and actor Hao Qin will attend the opening ceremony Nov 20. Beautiful Crazy charts the rocky relationship between three young Taiwanese girls, following the trials and tribulations of young love, both gay and straight.
Closing movies: Drool (US), The New Twenty (US)
Drool is the story of teenager Tabby Fleece and her family and is a quirky and enjoyable modern fairytale, by first time director Nancy Kissam. Lead actress Laura Harring (Mulholand Drive) plays the lovely, but slightly wacky Anora. The New Twenty follows a group of friends approaching their landmark 30th birthdays. Successful engaged couple Julie and Andrew lend emotional support to their less than thriving friends, including Julie's gay brother Tony, the overweight and lonely Ben (also gay), and Felix, whose drug habit is getting out of control. Can their lives remain the same? Watch and see.
Special Presentation: Permanent Residence (Director's Cut) (HK)
Hong Kong director Scud's follow up to his debut feature City Without Baseball is a heartbreaking story of love, lust and infatuation. IT professional Ivan befriends Windson in a sauna, marking the beginning of a long-term intimate friendship that spans years. However, Windson is straight, and can never truly offer Ivan the physical love that he needs. The film is ambitious in the depth and spread of the relationships it covers, and spans locations as diverse as Isreal, China, Thailand and Australia. A semi-autobiographical piece, Scud infuses the characters and story with his own experiences, creating a realistic portrayal of gay life for Hong Kongers. This version, the directors cut, finally allows him to reveal his story, the way he wants it to be told.
In Memory of Wouter: For the Lost Solider (Netherlands), Walking on Water (Australia), East Palace, West Place (China), No Regret (Korea) and Shortbus (US)
Asian Power: Love Mime (China), Sisters on the Road (Korea), Fruit Fly (US), Dose (Twelve) (Philippines), Boy (Philippines)
Panorama: Prodigal Sons (US), Fig Trees (Canada), Sex Positive (US), We Are The Mods (US), The Houseboy (US), Eating Out 3 : All You Can Eat (US), Redwoods (US), Dare (US), The Fish Child (Argentina), Hollywood Je T'Aime (US)
Euro Discovery: Give Patrik, Age 1.5 (Sweden), To Die Like a Man (Portugal), Shank (United Kingdom), Eyes Wide Open (Israel ), Private Lessons (Belgium and France), Give Me Your Hand (France)
Special events:
Boys' Sweet Life (co-organised with Red Ribbon Centre) film competition to promote gay safe sex and healthy living using the medium of film.
Read Me & You book fair at Kubrick (next to Broadway Cinematheque) from 19 Nov to 1 Dec. Opening hours are from 11:30am to 10:00pm. Entry is free.
For more details about HKLGFF's selection of short films, movies and events, visit www.hklgk.hk.