The following is an extract from The Jakarta Post. Click on the link below for the full story.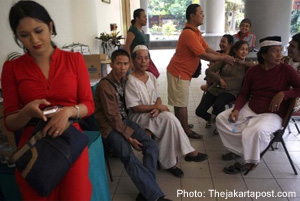 Participants of human rights training for transvestites gather
outside a hotel in Depok, West Java after Islam Defenders Front
activists dissolved the program last Friday.

Dozens of members of the Islam Defenders Front (FPI) stormed a human rights training program intended for transgender individuals at a hotel in Depok, West Java, on Friday.
The program, organized by the National Commission for Human Rights (Komnas HAM), had just begun when dozens of FPI members forced their way (past police) into the room.
Nancy Iskandar, a participant, said after a coffee break at around 10:30 a.m, a number of police officers had come into the room.
The committee had then asked participants to take a snack break in the training room.
"Several people then suddenly banged on the door and shouted the name of God," she said.
Nancy, who is also the head of the Transgender Communication Forum, said the group verbally assaulted participants disgracefully.
The commission immediately moved the participants to its headquarters in Menteng, Central Jakarta, in the afternoon to ensure their safety.