Information, Communications and Culture Minister Datuk Seri Utama Dr Rais Yatim last Thursday clarified that there's no ban on the portrayal of lesbian, gay, bisexual and transsexual (LGBT) characters on state-owned television channels in Malaysia contrary to a Facebook posting by the Information Department.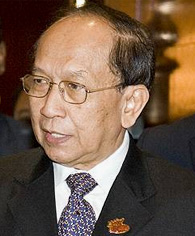 Information, Communications and Culture Minister Datuk Seri Utama Dr Rais Yatim
"There is no ban on any artistic performance by any segment of society, including those acronymed as "soft" (or effeminate) men," he said in a Twitter posting on April 6.
However, he said the Ministry of Information, Communications and Culture "still reserved the right to select content suitable for the general public given that Malaysia is a multiracial, multi-religious and multi-cultural country".
The minister's comments follow news reports that quoted Jabatan Penerangan Malaysia or the Malaysian Information Department's Facebook post on Thursday that read: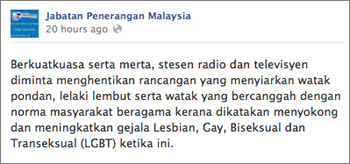 "Effective immediately, radio and television stations have been asked to stop programmes that broadcast characters (depicting) 'pondans' (transsexuals), effeminate men as well as characters that are in conflict with social and religious norms because they can be said to be in support of (and contributing to the increase of the LGBT social problem."
The Sinchew newspaper on April 6 quoted Dr Rais as saying that effeminate males were guaranteed under the law to take part in any entertainment programme, including a play. He added that the principle of gender equality was guaranteed under Article 8 of the constitution.
Dr Rais was speaking to reporters at the 1Malaysia People's Outreach Programme in Jasin, Melaka.
"So, based on this principle, all genders have the right to take part in any entertainment programme, put up a stage show or display their skills, unless they commit crimes," he said.
A ballet due to be performed in Kuala Lumpur last weekend by the Singapore Dance Theatre (SDT) had been cancelled after failing to get approval from the Malaysian authorities. Media reports have claimed the permit was denied because of 'indecent' costumes such as short classical tutus.
Dr Rais Yatim has since refuted the report on Twitter, adding that no application for permit had been made and "strongly urged" for the ballet performance to be held.
LGBT issues have continuously made the news since March 21 when UMNO/Barisan Nasional MP Datuk Baharum Mohamad told Parliament that three out of every 10 men in Malaysia is gay and called on the government to establish a gay rehab center to 'combat' homosexuality.
Since then Deputy Prime Minister Tan Sri Muhyiddin Yassin has been quoted in the New Straits Times as saying that LGBT people require counseling to "prevent the spread of this negative culture, which was previously prevalent only in Western countries."
Muhyiddin who is also Malaysia's education minister was speaking at the opening of the four-day national counselling and education carnival at Universiti Putra Malaysia on April 4.
Anti-gay rally planned for Apr 21; "monitor and stop such activities from now on," Deputy Education Minister
The Malaysian Insider reports that anti-lesbian, gay, bisexual and transsexual (LGBT) groups will organise a rally on April 21 at Dataran Merdeka to protest what they described as "unacceptable" sexual practices. The rally will reportedly be led by Jaringan Melayu Malaysia (Coalition of Malaysian Malays) and involve other non-governmental organisations and parent-teacher associations in Selangor, according to the New Straits Times on April 8.
Deputy Education Minister Datuk Dr Wee Ka Siong in The Malay Mail today distanced the Education Ministry from the controversial anti-gay campaign organised by JMM. It was reported in an online blog and a Malay daily that JMM was conducting an anti-LGBT campaign in about 30 schools.
He said it was not the ministry's stance to promote such negative perceptions against any segment of society and such activities must be monitored and stopped.
"I have received the report from the school. Actually, it was one of the PTA programmes. In light of what has happened, we want all the schools as well as the state education departments to monitor and stop such activities from now on," he said.
"We allow the PTAs to conduct activities but we must make sure we monitor the activities and that they are in line with the values we want to promote.
"It is all right to inculcate good values. We are not questioning their intentions but we want them to be more careful especially on this topic.
"When you say anti-LGBT or anti-anything, it can be perceived in a negative manner. With this sort of taglines, you have to be careful. I believe it is better to educate and teach instead of just going with 'anti' taglines."
The Human Rights Commission of Malaysia (SUHAKAM) Commissioner Muhammad Sha'ani Abdullah has called on the government to intervene in light of JMM's anti-LGBT campaign and planned rally.
"If it is true that they have begun an anti-LGBT campaign in secondary schools, the government and (Education) Ministry is duty bound to promote respect to these minority groups," said Sha'ani in The Malay Mail today.
"They (JMM) can have their opinions but campaigning against certain groups of people is wrong as it may result in violence against them."
Last year, the police declared a ban on Seksualiti Merdeka, an annual festival celebrating the human rights of people of diverse sexual orientation and gender identity that has been held since 2008.