On 29 September, Hong Kong's second Pink Season kicks off with a mega Opening Party at Psychic Jack (PJ). Yes, the months have flown by and we're back in the autumn for the nest in the series of events that became a festival last year.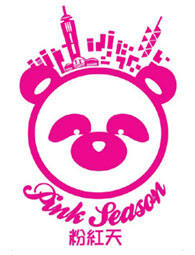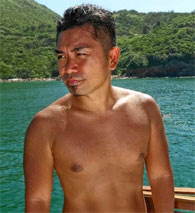 Pink Season Coordinator Tay Her Lim
This time round, the Pink Season Coordinator is Malaysian-born Tay Her Lim, investment banker and engineer, and now impresario of one of the most diverse shows on earth, a festival that will run over two months till December. There's just so much to pack into these weeks, more indeed than last year, that it's impossible to make it shorter.
As Mr Pink, aka DJ BLing, aka Brian Leung, in the chair for his second year, says: "The Hong Kong LGBT community invites you to celebrate the second edition of Pink Season with us. Pink is an unprecedented collaboration between local LGBT organisations and artists over a two-and-a-half month period. The list of events is awesome and our organisers are still planning for more activities with local artists and organisations. We're looking to add a distinguished speaker series, plays, dance shows, painting exhibitions, and much more."
Tay Her Lim took over this year from Pink Season founder Anshuman Das (AD), who set up the organisation and pitched it to the Hong Kong Tourist Board in 2011, and is now listed on the official Discoverhongkong.com website. Lim decided to expand the range and types of activities with which the season had started, building still around the five core events, but seeking this year to make the event as inclusive as possible.
"We want to bring in the families and friends of LGBT people this year", Tay told me. "It's important that Hong Kong gets to know us and to see the contribution we make to society here. We also need to make friends for the struggles to come."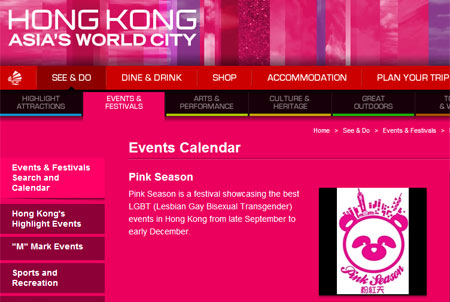 Pink Season is listed on the Hong Kong Tourist Board's Discoverhongkong.com website
There are indeed some significant sponsors for this year's Season. The Hong Kong Tourist Board continues to encourage the Season and to place it on its calendar of Hong Kong events. The biggest financial backer by far is Barclays, which has decided to 'come out' with a bang in Hong Kong and to spread the good work they have long been doing inside the Bank's diversity organisation out into the wider community. Their finances will make some of the events possible. Less well known outside the LGBT community is Pink Dollar Technologies, businessman philanthropist Paul Ramscar's creation that has this year launched the Pink Dollar Iphone app for pink shoppers. These are joined for individual events by many others: Air Canada, the bars Psychic Jack and Volume, the social networks Les Peches and Fruits in Suits, and of course by Fridae for media coverage.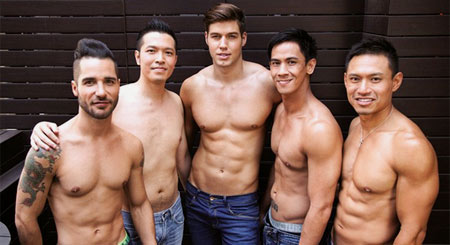 Mr Gay Hong Kong 2012 hopefuls. Left to right: Raul Franco,
Dickson Lau, Trevor Alt, Benjie Caraig and Donny De Silva
Click here to vote.
The key events of the Season, its pillars as it were, are five. The first to take place, on 6 October, is the Mr Gay Hong Kong pageant 2012, on 6 October, where you can, as its creator, blogger, writer and "Asia's hyperactive gay boy" James Gannaban, puts it, "enjoy a glamorous evening with the bold and beautiful and vote for the winner." It's a good weekend to be in town as the next day is the annual occasion when the LGBT community takes to the waves and the crew organising Floatilla invite you to 'Come aboard Hong Kong's biggest boat party of the year.' As always, no one knows where the armada of queer boats will end up, but it's sure to be somewhere secluded and fun. Another beach will figure the following weekend when the community goes out to party at Middle Bay in the third Out in the Open event, organised, as always, by Fruits in Suits' Chief Dreamer, Eric Herrera, and his team.
On 11 November comes Gay Day @ Disney, where you can celebrate being happily gay by spending the day out at Penny Bay with your favourite Disney characters. Organiser Peter Sargant, a member of the Hong Kong Interbank LGBT Forum, says: "Disney opens its doors every year in Hong Kong to put on an annual fun day out at the Hong Kong Disney Land Park and Hotel. It's aimed at the whole LGBT community, their friends and families, and there'll be a series of events and activities through the day – both inside and outside of the park."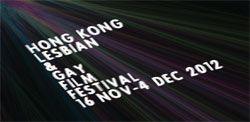 For updates about the HKLGFF, visit hklgff.hk
Finally, and traditionally (in their case historically, as the Film Festival has run here since the 1980s), Joe Lam of Dimsum and his team of LGBT film buffs will mount once again the Hong Kong Lesbian and Gay Film Festival (HKLGFF), which opens on 16 November and runs right through till 2 December. Joe will be joined by Richard Fox and his Chicken Feet Disco on 9 November to kick off the Film Festival with Movie Mania!, a night of songs from the movies. Come dressed as your favourite movie star and dance away the night to hits from films like Grease, Hairspray, Mama Mia and Dirty Dancing. You will be able to see there preview clips of some of this year's movies and pick up a programme. 10% of all the bar takings that night will go towards the HKLGFF.
Around these major events will be woven a whole host of other attractions. "We want to showcase Hong Kong's talent to the world", as Tay puts it. Some of these events will be theatrical. The first runs from 25 September to 7 October, a new production of My Big Gay Italian Wedding, directed by Wendy Herbert. From 13 – 14 October, the Dream of the Mermaid will run as the 'first ever Cantonese filmic opera in classical music', a show focussed on supporting Ms W, who is currently fighting in the Hong Kong courts for the right to marry in her acquired gender.
Burlesque Night by Vixen Burlesque takes place on 25 October; 'Show us your pride and we'll show you ours', say Vixens Burlesque, Hong Kong's 'first and finest' Burlesque Troupe. It adds: 'We're putting on a burlesque night with performances by your favourite girls to your favourite divas.' Les Fleurs Sauvage make a return appearance to the Season by giving us two drag queen shows entitled Don't be a Drag… Just be a Queen! on 30 October and 27 November.
There'll be two exhibitions mounted throughout the Season. Samuel Lee will display a photographic exhibition from 6 October, a show of gay and lesbian Asians called Love | Shows. Another, entitled Seven Deadly Sins, will run from 22 November – 22 December.
This photography and mixed media exhibition will bring artists from diverse backgrounds in Hong Kong 'to seek their own interpretation of what 'sin' can entail.' The artists are still to be finalised, but are likely to include Abby Lee, Gavin Tu, Michael Lam, Lau Wai, John McArthur, Drtkk and Norm Yip.
On 9 October, the St. John's Cathedral HIV Education Centre will throw their Charity Concert in the Cathedral, with the Hong Kong Welsh Male Voice Choir and The South Island School Chamber Orchestra and Chamber Choir raising what the Centre hopes will be HK$300,000 (US$38,700) for its service development and reproductive health programmes. Local NGO Community Business, which is bringing diversity to the city's boardrooms, will hold its Diversity & Inclusion in Asia 2012 Conference from 6 to 7 November, a 'must-attend event' for executives responsible for driving their diversity and inclusion strategies in Asia, as well as for many of us in the corporate diversity world. The Pink Alliance, a great supporter of Community Business, will be there too.
Some Season events are sporting, of a sort! The Hong Kong China Pole Championship 2012 takes place on 18 October, 'a pole dance extravaganza', say the organisers, 'with overseas and local contestants guaranteed to take your breath away with their amazing death defying stunts! Finalists are the cream of the crop from Mainland China and Hong Kong There'll also be athletes from Japan, South Korea, Malaysia, Russia and the Philippines.' It'll have an after party, too. Local gay football team One Nil will be playing, too, on weekends throughout the Season.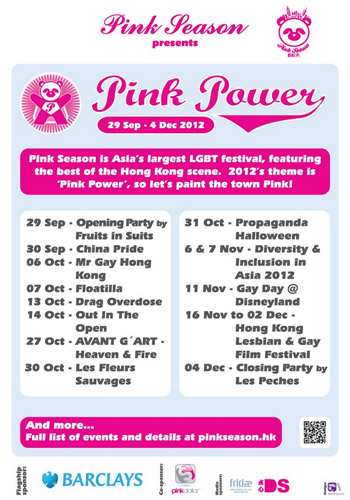 More details at pinkseason.hk
And of course, there'll be parties galore. On 29 September, after the Season kicks off at PJ, Volume: BEAT will present the Pink Season Ultimate Pride Party. Evan Steer demands your presence to 'celebrate into the night and beyond under a rainbow explosion of Pride-themed decorations, as Volume: BEAT pays tribute to Hong Kong Pride's past and present, helped along the way by international guest MC & DJ Jelly JJ (one of the original resident DJs of the city's very earliest gay clubs), and supported by the talented gender-bending ladies of Les Fleurs Sauvage.' On two nights, 30 September and 01 October, HX Productions will bring Hong Kong the pre-party for Taiwan Pride, with DJ Head from Taipei and DJ Spectrum from Bangkok. Les Peches will throw a special Pink Season party for the girls on 1 October and on 16 October and 20 November, Fruits in Suits, the gathering of 'business-minded members of the LGBT community who gather to talk shop and socialise' as well as to win great lucky draw prizes, will have a special Pink Season flavour. Volume BEAT figures large in the Season's events; on 13 October, Drag Overdose will stage 'the second annual grand meet-up of drag queens and kings, drag princesses and princes, princesses-for-a-night, drag friends, fans, supporters and patrons of all shapes, sizes, colours, political views and religions, for a night of pressure-free fun, drinking and glittery fashion.' 19 October will see the Chicken Feet Disco's Pink Pop Party, which will be, according to Richard Fox, the coordinator, 'a night of camptastic pop music' for which everyone will have to wear something pink. 10% of the bar takings will go towards paying for Gay Day @ Disney. Propaganda pitches in on 31 October with is annual Halloween party; Lawrence and Steve invite us to 'experience the metamorphosis of Propaganda as it mutates into the most terrifying graveyard for the decadent!' This will include shows by V don't give a sh. 2, our very own Bryan Chan in Coco Pop guise and Gigi Morelle-Reyes. There'll be fabulous prizes, they say, for those who enter the spirit of the night and come dressed for Halloween. Up market KEE Club will present the latest in their annual series AVANT G'ART , this one named Heaven & Fire, on 27 October, when they say they will welcome you to one of the city's wildest charity parties in a benefit for with AIDS Concern and the HKLGFF. 'Couture fashion, spicy art, delirious dance, premier entertainment and sweet music,' they promise 'shall swirl supreme'.
The Season will close on 4 December with a party hosted by Abby Lee and Betty Grisoni of Les Peches. By then one has to ask, will there be anyone left standing?
Editor's note: Not part of the Pink Season line-up, the Hong Kong Pride Parade 2012 will be held on Nov 10 with participants marching from Victoria Park (Causeway Bay) at 3pm to Hennessy Road to Chater Garden (Central).
Nigel Collett is the Joint English secretary of Tongzhi Community Joint Meeting (TCJM) and Pink Alliance, organiser of the Pink Season.
Fridae is proud to be Official Media partner for Pink Season.