A senior executive, who had previously brought a suit against his former employer in 2012, has filed a new case seeking a court declaration that Article 12 of the Constitution which guarantees all persons equal protection of the law will also apply to gay men. Article 12(2) currently states that "…there shall be no discrimination against citizens of Singapore on the ground only of religion, race, descent or place of birth in any law…"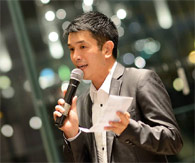 Lawrence Wee
Last year, Wee Kim San Lawrence Bernard brought a suit against his former employer Robinsons, a well-known chain store in Singapore, alleging he was harassed into leaving his job because he is gay and discriminated against on the grounds of his sexual orientation.
Today, Wee, who is represented by human rights lawyer M Ravi, made an application to the High Court for a declaration that the Constitution of Singapore prohibits discrimination against homosexual men on account of their sexual orientation in the course of employment.
In the application, the 40-year-old described the biased and prejudiced treatment he faced at the workplace – until he left in August 2012 – as a result of his sexual orientation and stated that his only wish was to be "allowed to prove my worth at work, without fear that an immutable characteristic of mine becomes a millstone around my neck".
In the affidavit, Wee said that he had worked for the company since 2006 had no issues when he was working primarily with the General Manager of Administration and Finance Shia Yew Peck, and Chief Executive John Cheston at the time until a new Acting CEO Jim McCallum was appointed in April 2011.
In March 2012, Wee recalled his former boss Shia asking him whether he had ever considered "turning straight" as it would be "more acceptable at work and makes life easier." Wee however replied that he is "comfortable with his sexuality" and sees "no reason to change and pretend to be someone else."
In May, Shia told Wee that the Acting CEO's biasness against him seemed "deep-rooted" and hasn't changed, and advised him to keep an eye out for a new employment opportunities. A month later, Shia told Wee that his efforts to correct the their boss's prejudice was unsuccessful and added that there would be no future for him at the Robinsons Group as long as the Acting CEO's is around "as he wanted (Wee) to leave."
From the time Wee joined Robinsons in 2006 as a senior manager of its cards department to when he left in 2012, his monthly salary had more than doubled from S$7,200 to more than S$16,000. In the affidavit, Wee said that the company had recognised his good preformance and he played a key role in increasing the store's corporate sales from $20 million in revenue a year to over $32 million a year due to "key strategic accounts" that he had brought on board. In November 2011, Wee was credited for helping the company avert a $200,000 shopping voucher scam and his involvement was mentioned in a Straits Times report.
Wee said his attitude and work ethic had served him well throughout his life since he had to take up various odd jobs since he was 9 to support his family however the prejudice and discrimination he faced while working at Robinsons left him feeling "very aggrieved" and "flew in the face of everything (he) believed in about Singapore being a fair and meritocratic society".
Due to the lack of any legislation prohibiting employment discrimination against gay men, he was not able to seek any form of recourse from his employer despite believing that he was been arbitrarily treated on account of his sexual orientation.
Robinsons has denied all of Wee's claims as reported by Asiaone in February 2012. The company denied Wee's claims that he was unfairly harassed by his boss Jim McCallum or that Wee's had increased corporate sales for Robinsons from S$20 million to over S$32 million a year. It also denied that Wee had "performed well" in his job, and had received increments and bonuses as "an acknowledgement of (his) excellent service".
When contacted by Fridae, M Ravi confirmed that this is the first case of its kind, on the grounds of sexual orientation, in Singapore although he knows of several other similar cases involving gay men who have face workplace discrimination.
"A number of gay men have approached me recently on such cases of discrimination in employment but they are afraid to come out publicly to fight for their rights and hence suffer in silence." He added: "With this case my client is seeking to take a significant step to secure equal rights for all homosexual men. Even if the Court of Appeal strikes down section 377A, it does not guarantee equal protection for gay men who face discrimination in employment. This constitutional challenge seeks to achieve equality and dignity for gay men."
---
"Singapore's employment legislation provides recourse for employees who feel they have been unfairly dismissed, including on the grounds of their sexual orientation and gender identity": Singapore government to the UN
In May 2011, when asked about what the state is doing to address "prevalent and systematic discrimination against women based on sexual orientation and gender identity in the social, cultural, political and economic spheres" ahead of the Convention on the Elimination of All Forms of Discrimination Against Women (CEDAW) review, the Singapore government told the United Nations: "The principle of equality of all persons before the law is enshrined in the Constitution of the Republic of Singapore, regardless of gender, sexual orientation and gender identity."
The government went on to say: "Besides the adoption of fair employment practices promoted by TAFEP [Tripartite Alliance for Fair Employment Practices], Singapore's employment legislation provides recourse for employees who feel they have been unfairly dismissed, including on the grounds of their sexual orientation and gender identity and they have recourse to appeal to the Minister for Manpower for reinstatement to their former employment."