It might well be a public relations exercise but it's still a step in the right direction.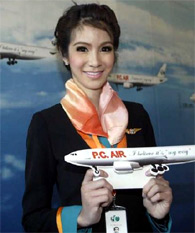 Miss Tiffany 2007 winner Thanyarat "Film" Jiraphatpakorn is one of the airlines three newly hired transsexual flight attendants.
Thai media reported yesterday that a new Thai-based airline P.C. Air has hired three transsexual flight attendants – the company's initial quota – alongside 17 cisgender women and 10 men among its first batch of 30 new hires. Among the three is Miss Tiffany 2007 transsexual beauty pageant winner Thanyarat "Film" Jiraphatpakorn.
The 23-year-old was quoted as saying: "At first I thought they would just take applications but not actually recruit us, as happened at other places before."
The company had recently conducted a roadshow accepting applications from "third sex" candidates, who have to check the "unisex" column in the application form, at Bangkok's Esplanade shopping mall.
An airline spokesperson was quoted as saying that the company recognises the potential of transsexuals to work as hostesses and hopes to offer equal opportunities to them. He explained that after passing the preliminary round, the transsexual candidates will undergo training along with female air-hostesses and will have a 'third sex' name tag pinned to their uniform to avoid immigration issues.
Despite their high profile in Thailand, transsexuals are unable to change their legal status, and often report that they are still stereotyped and are often unable to find work outside the entertainment and beauty industry.
The airline plans to launch flights on March 1.