What's in store for our community in 2002? Here's what some queers we met had to say.


The Sept. 11 terrorist attacks on New York City's World Trade Center
In Bangkok, things have been rough. Since the economy came down with the Asian Flu, recovery has been slow, to say the least. The buzz on the streets says things are getting worse. But according to Ake, 33, he doesn't see it that way: he thinks that the economy has bottomed out. Things might not be much better, but they're not getting worse. Still, for 2002 he's made a resolution.
"I will just follow the advice of the King." He's going to focus on making money and supporting his family, and try not to think about the luxuries he might miss. (Although an occasional night on the town in Patpong is still on the schedule, he says.) If he can, though, he hopes to save enough to get to the US - and maybe find himself an American boyfriend.
In the US, meanwhile, thinking about next year involves looking back a little ways. For Albert, 26, a Manila native now living in California, 2001 will be hard to top: early last year, he came out to his parents, got a new job, and moved (amicably) out of his dad's house. Those changes set the scene for 2002, but his thoughts about the near future revolve around our collective experience of the recent past. The attacks of September 11th have caused him to rethink his philosophy of life.
"You never know when things are going to end," says Albert. "I just want to experience life more, because I used to hold back a lot."
Alex, Albert's roommate, plans to focus on developing his community of friends. "Lovers may come and go," he figures, "but friends will always be there." He's a step ahead of Albert in the spontaneity department, having resolved, in 2002, to "party all day."
For the queer community in the US in general, the best we can hope for 2002 is to regain some of the ground we lost in 2001. Any attention that people were paying to queer issues in the US came to a sudden stop, along with everything else, on Sept. 11. Collapsing buildings in New York and Washington changed the tenor of talk about minorities.
Shaun, a gay and lesbian resource professional, says that in the wake of the terrorist attacks, incidence of hate crimes of all kinds went up. The pro-war mentality has gone too far among those lame of brain, and gays are getting bashed more than we were in the recent past. And, unfortunately, no one is paying attention; the front pages in the US these days are all about Afghanistan.
Beneath all the hoopla about the War on Terrorism, President Bush has quietly begun to push back some of the gains the gay community made under Clinton.
For the last several years, the Boy Scouts have been kicked out of schools across the country because of their discriminatory stance. A little clause in Bush's recently-passed school bill may change that - it authorizes this bigoted organization to use school facilities, even in places that bar discriminating groups.
---
Another story that is getting less press than it deserves concerns the increase in HIV infections among homosexuals are on the increase.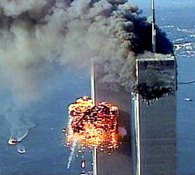 The Sept. 11 terrorist attacks on New York City's World Trade Center
Back when the epidemic was fresh and deaths were a daily thing, people tended to take their sex very carefully. Today, however, things have changed. The newer classes of anti-retrovirals are readily available, and a new generation of queers has come of age and out of the closet in the US with the impression that AIDS may be finally under control.
Lots of people - young people, especially - just don't think about AIDS. And if they do contract the virus, they figure they'll pop some pills and live long, productive lives.
This is not how Jae feels. He was diagnosed with HIV in 1999, and has the virus under control - for now. But he's got good reason to worry. He knows that sooner or later the virus hiding in his cells is going to evolve its way around this particular regimen.
2002 will be his third year on these drugs - and with each month that passes, the chances improve that his cocktail will begin to fail - his viral load will go up and his T-cell count will fall. What does he hope for 2002? The same thing he's wanted every day since his diagnosis: "I just want to stay healthy."
But 2002 may be a good year yet in the war on AIDS. In Thailand, tests of two vaccines are scheduled to get underway, according to the Bangkok Post. At least one of them is known to be safe for humans - but whether it can actually confer immunity to the virus has yet to be determined.
The trial process is a long one, and a preventative vaccine comes too late for the millions who carry the virus already, but "for those of us who practice safe sex and worry a lot anyway," says Mark, 32, "having an inoculation would be a big relief."
So even if 2001 saw backtracking in the US, slow progress is being made in Thailand on subjects other than HIV prevention. The number of gay festivals in the country increased last year - Pattaya held its first annual fest, Phuket its second, and Bangkok its third.
These are largely commercial ventures, with limited publicity outside of the gay community, but in a culture where being gay is unacceptable because it is seen as strange but not sinful, publicity is its own reward. As we become more familiar, at least to the Thais, we become more acceptable.
In spite of crackdowns on "vice" during parts of the 2001 - a new administration flexing its muscles, perhaps - it looks like 2002 will show more of the same slow progress.
So what's to come on 2002? Probably a few steps back, a few more steps forward. Ake may find the man of his dreams, Albert and Mark may relax, and, hopefully, Jae will stay strong and healthy.