Nation02, co-organised by Fridae and Kinemat Productions, hopes to celebrate the country's 37th birthday on August 8 with more fanfare than last year. The second annual event, to be held at the Fountain Gardens and Musical Fountain in Sentosa, a resort island located just south of mainland Singapore.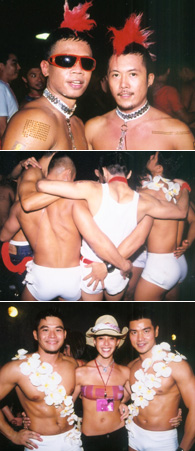 Snapshots from Nation01
The party will feature 2 dance areas with top Sydney DJs Luke Leal (long time veteran of the world-famous Sydney Gay and Lesbian Mardi Gras) and Marky Mark (DJ at the renown Sydney Mardi Gras recovery party, Frisky); DJ Lisa C. and DJ Borhead from Kinemat Productions. Partygoers will also be treated to a specially produced laser show by Oracle Lasers.
Nation01, which has been dubbed by international press as Singapore's "coming out" party, attracted over 2,000 guests. Organisers expect a bigger turn out this year and hopes that the event will draw the community closer together.
With a stellar DJ line-up and an unprecedented laser production, NATION02 will be the most spectacular party the community here has seen. Not only will NATION02 be a visual and aural feast, it will also bring the whole community together to celebrate Singapore's National Day as never before! Everyone is welcome to join the party regardless of who they are.
Security will be stepped up at the venue to ensure the privacy and safety of all NATION02 participants.
Business owners in Singapore have also expressed their support for the event by promoting the event and selling tickets at their establishments.
Cary Tan of Club Herstory, who organises the monthly girls' only parties, is happy to see a joint event of this scale. "Nation is like a huge family reunion, it's a great opportunity for the girls and boys to get-together and party."
---
Barry Teo, owner of The Box men-only club will close his club on the night to encourage his patrons to attend Nation. Barry hopes that Nation will be "more than a dance party and this will be a chance for the community to come together."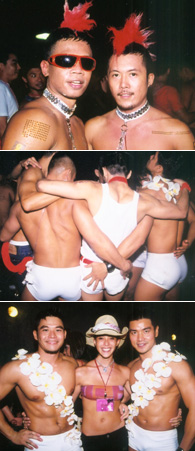 Snapshots from Nation01
Organisers will also donate a portion of the proceeds of NATION02 to Action for Aids, which has received more than S$10,000 through Fridae's events last year.
Dr Roy Chan, President of AFA, Singapore's only HIV/AIDS advocacy group said: "Nation01 was not just a major social event last year, it was also a stepping stone in community building in Singapore. We invite one and all to be at Nation02 - to be part of this exciting process."
AfA will relaunch its safe sex education programme, including outreach, counselling and support services targeting MSM in Singapore this year.
Dr Chan added that: "Acceptance, self-respect and accurate information are all prerequisites to responsible and safe behaviours. These in turn are necessary to prevent the spread of HIV/STI and to provide a compassionate and supportive environment for those already infected."
Like last year's party, Nation02 is expected to draw visitors from the region including Malaysia, Thailand, Taiwan, Hong Kong and Japan. Steve Chen, a 29-year-old engineer who works in Singapore told Fridae that at least 30 of his friends would be flying in from Taipei and Tokyo to be part of the festivities. "My friends cannot stop talking about Nation. I think this could be one of the largest parties of its kind in Asia. We can't wait!"
Tickets go on sale 28th June at S$25 (if purchased before 30 June, $35 at from 1-31 Jul and S$45 at the door). Tickets will be on sale online from June 28 at www.fridae.asia/nation, The Box, One Seven, Oppt Shop (Heeren) and BloodBrosprojectshop (Wisma, Paragon, Raffles City).