Editors' note: In conjunction with 3D, Fridae will be giving away a ticket to 3D worth S$45 to 50 readers telling us what safe sex means to them. Click here to participate!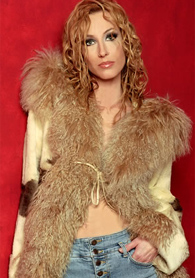 Club diva Erin Hamilton
Ultra Nate will not be performing at 3D on 30 November 2002 at Sentosa due to scheduling problems, organisers announced last week. According to a press release, the star who was recently married is currently working a very tight schedule.
The organisers are however pleased to announce that Erin Hamilton who performed the recent smash hit, a club cover of
I Got The Music In Me
will be added to the line-up of Divas.
Hamilton, who is the daughter of comedian Carol Burnett, has taken the dance word by storm and is a much adored circuit club Diva with hits such as
The Flame
,
Dream Weaver
and
The Temple
.
The Diva and DJ filled Mega Dance Party aims to raise S$250,000 for Action for AIDS, Singapore not only for the majority of PWAs (People with AIDS) who cannot afford to pay for treatment but also to reinforce the 'message of prevention' with Singapore's young adult population and to educate them on the facts surrounding AIDS and HIV infection.
A hundred percent of every dollar raised will be donated to Action for AIDS, a voluntary community-based organisation which does not receive any government funding.
The event will feature live performances by some of the world's sassiest dance Divas - Babara Tucker, Thea Austin, Pepper Mashay, Janice Robinson and three of America's leading gay club DJs - Pete Avila (Twilo-NYC, Osmosis-San Francisco), Bert Bevans (Studio 54 - New York, Ministry of Sound - London) and Rolo (Fag Fridays, San Francisco Pride).
Also, organisers have announced that each ticket holder to the 3D event will receive a one-year membership to LifeMedic (www.lifemedic.com).
Event info
3D - Divas. DJs. Dance
Siloso Beach, Sentosa
30 Nov 2002, 9pm - 6am
Tickets: $36 (early bird price till 31 Oct)/ $46 (from 1 Nov)
Book online at www.sistic.com.sg or call 63485555
Performing LIVE -
Erin Hamilton
One would stand a better chance of seeing Mike Tyson crowned "Miss Teen USA" than finding Erin Hamilton home on a weekend. She has a performance schedule more torturous than most world leaders, an air-mile package that reads like the national debt and an inherent ability to take it all in stride. From Deadhead to Blues, from Jazz to Alternative, Erin has a rare chameleon-like ability to successfully adept to whatever musical genre she decides to tackle. She has performed at countless benefits, sharing the stage with am impressive list of stars. In a relatively short period of time, Erin has proved that she has the vocal dexterity to cross boundaries, hold her own and give any audience some of her little woman- big voice magic.
---
Pepper Mashay
She's as hot as her name suggests. With her new hit "You and Me (Feels So Good") a Billboard Breakout smash hit at Number One, which came hot on the heels of her other chart-topper,
I Got My Pride
, Pepper Mashay is the undisputed top dance artist. This diva was hot to trot from Day One of her dance-music career. The dance singer and songwriter fronts the huge circuit club hit
Dive In The Pool
, which bagged the Number Two Billboard Dance Song of 2000, and clinched Song of the Year at the Winter Music Conference In Miami in March 2001.
Dive
is also the popular adopted theme on Showtime's
Queer as Folk
. Next up:
I Can't Stop
, Pepper's brand new offering. Indeed, you can't stop the dance queen!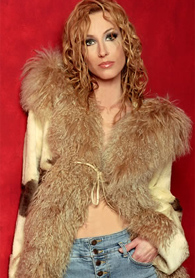 Club diva Erin Hamilton
Thea Austin
Who doesn't remember her as the original vocalist of SNAP, best known for the international multi-million hit
Rhythm is a Dancer
, which stayed strong on Billboards Hot 100 Singles Charts for 54 weeks? Today, the lady with vocals of amazing range and soul is the lead singer of SOULSEARCHER, and Thea has stirred up the international dance circuit again with the crossover massive appeal of
I Can't Get Enough
, which shook up both the UK National Pop Charts and US Dance Charts! Follow up to that is her other dance hit,
You're the Worse Thing For Me (I'm Addicted)
. No surprise then that after Michael Jackson saw her perform, he invited Thea to be his opening act for his Dangerous Tour. In 1997, Thea recorded the Andy Gibb classic
I just Want To Be Your Everything
and in her own inimitable style, spun it into a dance club smash. 2002 has been a busy year for Thea, with 3 new songs on release, including
Funky Music
and
First Class Freak
. When she's not breaking dance circuits, Thea is an active supporter for AIDS charity. This diva is on a winning track record!
Janice Robinson
Dreamer, Earth Beat, Sweetest Day of May. Just some of the biggest hits from Janice Robinson, original lead singer of the huge band, Livin Joy. For the record, Dreamer was the Number One in 26 countries around the world. Just how brightly is her star shining? Pretty brightly, considering rock's biggest female singer of all time, Tina Turner, hand picked the New York and Paris-based Janice as her opening act for her 40-city farewell US tour. Now that's sweet success.
Barbara Tucker
More than just a vocalist, Barbara Tucker is an electrifying entertainer, spreading her inspirational songs and dance music about regular people and love, from the stage to the dance floor. Catch her in concert and you'll see she never gives the same show twice, instead, she constantly pumps in new sounds to up the excitement ante. As co-founder of The Underground Network, the longest running club night in New York's history, Barbara has also been a strong force in the Big Apple dance scene, and she's collaborated with a who's who list in entertainment: Pet Shop Boys, De-Lite, Wyclef Jean, George Michael. She's even choreographed and danced with C&C Music Factory and Shannon. Currently, the dynamic diva has a new, rising track
Stop Playing With My Mind
, anticipated to take the dance circuit by storm.
---
DJs
Bert Bevans
Hailed by his peers in the music industry as one of the forefathers of dance music, this DJ extraordinaire continues to play an integral role in the development of dance music in New York and Europe, since bursting into the club scene in the 70s along with Francois K and Paul Rodriquez. Interestingly, he was a former aviation student who started DJing at the traditional house or block parties in Hollis, Queens, home of LL Cool J and Run DMC, among others. His big break came when he was hired to play private parties at Studio 54, New York's illustrious nightclub and playground of the rich and famous. Since then, Evans has travelled the globe, spinning in places like Switzerland to Estonia, Russia, Finland, Mexico and Zimbabwe, bringing fans to another new, revolutionary dance order.
Pete Avila
His passion for music began way before he ever stepped behind a pair of turntables. Pure 70s R&B, from the soulful sounds of Earth, Wind & Fire, Chaka Khan and D-Train were the early influences for his unique brand of house music. However, Avila credits the genius of Stevie Wonder and Curtis Mayfield for inspiring his music with a message. When the man gets behind the pulpit, fans are guaranteed a moving experience. From the now legendary Twilo in NYC, to the Stalker in Amsterdam, The Base in Milan, and practically every major dance venue in his native San Francisco. As a promoter, Avila has successfully created huge clubs like Osmosis, Twirl and Carefree. Outside of work, he's a strong believer in giving back to the community and supports AIDS Walk and AIDS Dance-a-thon. Production is also his forte. Avila has come a long way since his first remix for M-People as a Billboard Reporter. In the last 10 years, he's built an incredible discography remixing dance music's biggest artistes like Martha Wash, and Jocelyn Brown. More recently, he 's completed his second Usher single for Arista Records.
Rolo Talorda
This DJ dujour has been spinning his magic in the San Francisco house and club scene since the early 90s, from the Sound Factory, the infamous Endup, Lift, to Breathe Deep. The man, whose biggest influence was his friend and popular San Francisco DJ Aaron O, has also performed in Seattle and San Diego. In '96, he took up the residency mantle at "Fag Fridays", and has been there since. This year, he's added "Saturdays @ Liquid" and "Nice" to his residencies. Also spotted: stirring up a dance music storm at the recent San Francisco Pride Parade.