According to a report in The (Singapore) Straits Times, a group of 20 Christians from different denominations and voluntary organisations including the Christian ex-gay group, Choices, met last Thursday to come up with a plan of action.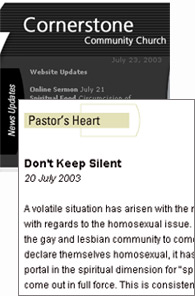 Pastor Yang Tuck Yoong from the Cornerstone Community Church said that the meeting ended with a 'consensus to draft an immediate plan of action that every pastor and church can adopt in our battle against homosexuality.' The letter dated 19 July can be found on the Choices/Church of Our Saviour website.
In a message titled 'Don't keep silent' by Pastor Yang, which can found on his church's website, he urged Christians to make a stand: "We cannot stand idly by. Homosexuality is a sin and it is far more rampant, militant and organised then most of us actually believe it to be. The influence that the gay and lesbian bloc wields is formidable indeed. The battle lines are now drawn and it is time for the Church in Singapore to rise up and make a stand."
In the same message, he suggested that Christian lobby groups "apply constant pressure on appropriate authorities" and for Christians to 'express their concern' by writing to the media, raising the issue to their Member of Parliament, through letters or during Meet-the-People sessions, and sending their views to the Feedback Unit.
The paper also reported that Pastor Yang admitted that his church, which left the Anglican umbrella in 1995 to become an independent Pentecostal church, was not officially involved in organising the Thursday meeting. He said: "We are merely alerting our members to the importance of speaking out on a matter of public policy - as individuals."
Sister Theresa Seow, a Catholic and president of the Inter-Religious Organisation commented: "It is not very Christian to provoke people to go against a group of people who, I believe, would not want to be what they now are if they have a choice."
Meanwhile, the National Council of Churches of Singapore, which represents the mainstream denominations, also met last Thursday and is expected to issue a statement soon, the paper reported.
In the past weeks since news of the PM's remarks broke in the local media on 5 July, the gay issue has been fiercely debated by Church leaders and Christians in the paper's forum pages.
In a letter published by
The Straits Times
on 15 July, Mr George Lim Heng Chye wrote: "We also believe in a God who loves both the heterosexual and the gay, but He hates the sin of immorality. So now you know where I would stand on the issue of the Government hiring gays for even sensitive jobs. Or is there no more right or wrong regarding the hiring of gays to help govern the country? There is no greyness between white and black. White is white, and black is black. There is no relativity in morality. Morality is absolute. So is it morally right to hire gays for key government positions?"
---
Reverend Dr Yap Kim Hao, however, expressed a different view and wrote in a letter published in
The Straits Times
on 18 July: "I applaud the stance of the Prime Minister in announcing that the Government is more open to employing gays now.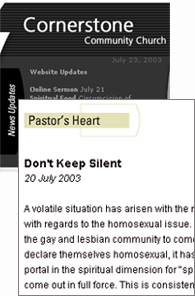 The retired bishop of the Methodist Church concluded, "It is only right that we do not discriminate against anyone on account of race, religion or sexual orientation."
Commenting on the issue, Clarence Singam of Safehaven, a Christian fellowship for gays, lesbians and bisexuals in Singapore told Fridae, "The campaign is not healthy because it is projecting the 'evil gay rights versus holy church' battle in the United States onto the Singapore social landscape. This campaign will only serve to polarise the Government's laudable efforts to bring Singapore into the 21st century.
He has called the anti-gay campaign, which plays on the fears of the people by flashing the 'moral fabric decay' card - unhelpful - as it plays on fears rather than foster useful discussion.
"We are a society that has allowed abortions and divorces - big no-nos in the Christian church - and yet there is no call to stem the 'moral decay' by changing current laws to ban them. But when it comes to homosexuality we are all suddenly up in arms. This is not useful and some might even say, smacks of hypocrisy," said Singam who holds a law degree and is currently completing a Master's Degree in Applied Psychology.
However, he urges gay Christians to reach out firmly but civilly: "The Government has taken an enlightened and positive step. Let's demonstrate that the gay community is mature enough to reciprocate. We should not take an eye for an eye. We should not play tit for tat. At the end of the day what fuels this campaign is fear and misunderstanding. What is required from the community are acts of compassion, empathy and co-education. So write to you MPs, leaders and the press. Don't inflame. Just share briefly how your life was positively affected by the PM's statement. Share your hopes and aspirations for Singapore as a gay person. Engage the Christians in your midst. Though well meaning, Christians can so often be caged by their fears. Those who fear deeply are often those who lash out most. Remember this and you can find the strength to be resolute but gentle."