China blocks gay resource site
China has blocked a Chinese-language web site providing gay-related news and information, according to press reports last week, although the US-hosted site can still be accessed from any other country.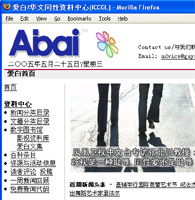 The www.gaychinese.net site, which is run by volunteers mainly in mainland China and possibly the most extensive in its reach, has apparently been blocked by the government for unknown reasons since April 11.
The
www.gaychinese.net
site, which is run by volunteers mainly in mainland China and possibly the most extensive in its reach, has apparently been blocked since April 11.
Site manager Damien Lu, reported to be a theatre professor at the University of California in Los Angeles, told the AFP news agency that the site does not contain any political or sexual material and was purely providing an online news resource to the many lesbian and gay people in China.
Popular features of the sites include a question and answer forum which provided advice on how to develop relationships and interact with family members, coming out issues especially for gay men and lesbians living in remote parts of China as well as HIV prevention and safer sex information.
The Ministry of Public Security, which has a unit in charge of censoring Internet content, has refused to say why the site is suddenly off limits.
China is estimated to have a total of about 100 million Internet users.
POST/READ COMMENTS
Concern as HIV rate rises among HK gays
Health officials have expressed concerned over increasing HIV infection rates among homosexuals and bisexuals in Hong Kong.
Statistics from the Center for Health Protection revealed that although the annual number of new HIV cases reported has remained steady at about 250 in recent years, the proportion who are gay men has risen, and quarterly figures on new cases have intermittently surpassed heterosexual males.
Consultant Wong Ka-hing on Tuesday told
The (Hong Kong) Standard
the rise could be attributed to a higher awareness in the gay community over AIDS - or simply a higher testing frequency but conceded that the figures have raised concern.
Last year saw a 10-year-high occurrence in new HIV infections among gay and bisexual men, with 66 new cases reported compared to 70 cases among heterosexuals. Young gays or bisexuals, aged 20 to 39, account for the largest infection group, said Wong.
Of the 65 new HIV cases reported for the same period - which include 55 males and 10 females - 16 men contracted the disease through heterosexual contact, compared with 19 cases involving homosexual or bisexual relationships. The third quarter however saw more cases involving homosexual and bisexual men than heterosexual men.
Wong stressed that "it is possible that more of them just came forward to give blood tests," but he could not give a comparison in terms of tests taken for each demographic group.
Since 1984, a total of 2,577 HIV and 723 confirmed AIDS cases have been reported in Hong Kong.
POST/READ COMMENTS
---
Low condom usage among gay men in Shenzhen: survey
A new survey of gay and bisexual men in China's southern city of Shenzhen, shows that only 20 per cent of the men regularly use condoms for anal sex, the
South China Morning Post
reports.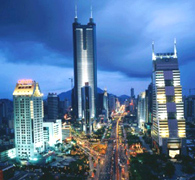 The survey of 220 men conducted by Disease Prevention and Control Center found that 33 per cent of the men never or seldom use condoms. Health officials worry that unsafe sexual practices might be leading to high HIV transmission rates, especially since 61 per cent of the men report engaging in anal sex and 74 per cent say they commonly have sex with strangers. The study also said that 55 percent said they thought they would never, or most probably never, catch HIV, the virus that causes AIDS, the paper said.
Half of the men surveyed also reported having unprotected sex with women occasionally. "The use of condoms has increased dramatically in those (areas) where intervention measures have been taken," health official Cai Wende told the Post. "But we are facing difficulties in enlarging these pilot programs, even though they have proved to be very efficient."
Men who have sex with men account for about 11 per cent of China's reported HIV cases. The country's government estimates that there are 840,000 HIV-positive people in China, but the United Nations say the actual number may be as high as 1.5 million and could climb to as many as 10 million by the end of the decade.
The economically booming city of Shenzhen, which is just across the border from Hong Kong, has become a popular city for gays because of its strong job market and relatively tolerant attitude toward homosexuality.
POST/READ COMMENTS
Saudi police arrest 92 "deviants"
Saudi Arabia has arrested more men presumed to be gay, according to press reports, despite the recent criticism of its anti-gay legislation by human rights campaigners.
According to Internet reports quoting the Arabic Al-Wifaq news website, Saudi security forces have arrested 92 "deviants" after they stormed a party in the Qatif district in eastern Saudi Arabia at 1 am last Friday morning when they found the men wearing make-up and wigs and dancing in women's clothes. The report said some of the men at the "deviants' party" - a phrase usually used to refer to homosexuals - were drunk and had taken drugs.
Most of the men detained were from the conservative Muslim kingdom but others were from Qatar, Kuwait, Bahrain, Lebanon and Syria.
Homosexuality is still illegal in Saudi Arabia, and those found guilty are often subjected to torture, imprisonment or execution.
Last month human rights group Amnesty International launched an urgent appeal on behalf of 35 people it said were at risk of being flogged after attending what Saudi newspapers had described as a gay wedding. It said the men were sentenced to between six months and two years in jail, and between 200 and 2,000 lashes.
POST/READ COMMENTS