Asia's largest gay and lesbian network, Fridae.com, will hold its signature Nation party - dubbed a "festival of international proportions" by Time Asia - in Phuket, Thailand from 4-6 November 2005.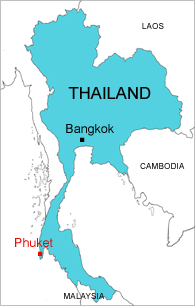 Singapore authorities in April rejected an application to hold Nation, Asia's most acclaimed gay and lesbian party, which had been held annually since 2001 in the city-state to celebrate the country's National Day in August. In a faxed reply, the Singapore police turned down the licence citing the event to be "contrary to public interest."
Fridae regrets the Licensing Division's rejection of Nation's licence. Said Dr Stuart Koe, Chief Executive Officer: "We are disappointed that the authorities have deemed a National Day celebration by Singapore's gay citizens as being 'contrary to public interest' when it had previously been approved for four years without incident. This is a direct contradiction to previous calls for embracing of diversity."
Despite the Singapore government's attempt to curtail the public space enjoyed by gay Singaporeans and residents, organisers hope for the international gay and lesbian community to come together in creating a new 'Nation' - free from discrimination and welcoming of all.
"The Nation party is evolving with the circumstances; and we hope for it to be truly an event where gays and lesbians from all over the world can come together and celebrate their diversity and take pride in their community," said Dr Koe.
For the first time, the 3-day event will see gay party organisers from four Asian cities (Hong Kong, Kuala Lumpur, Taipei and Tokyo) involved in co-hosting eight parties to be held back to back over the weekend.
The last Nation party held in Singapore on 8 August 2004 attracted an attendance of over 8,000 party revellers, of which 40 percent were international visitors. Tourist revenue generated over the 3-day event was estimated to be close to US$6 million, based on unreleased data collected by an independent market research company at Nation in 2003.
Since 2001, the Nation parties had grown tremendously and garnered international media attention with extensive coverage by news agencies and leading publications including
The Wall Street Journal
,
Far Eastern Economic Review
,
The Sydney Morning Herald
,
The Advocate
,
Time Asia
and BBC radio.
Nation.V is sponsored by Fortune 100 global communications leader Motorola for the second consecutive year and Subaru for the third. The carmaker is a well-known pioneer corporate sponsor of gay and lesbian athletic and community events in the United States and is represented by Motor Image in Thailand, Singapore, Malaysia, Indonesia, Hong Kong and the Philippines.