Taiwan activists blast gay bookstore verdict
Gay activists in Taipei have decried a court verdict against the owner of a Taipei bookstore who was found guilty on May 31 by the Keelung District Court for selling "indecent" magazines and faces 50 days in prison.



Lai Jeng-jer (above), the owner of Gin Gin's Bookstore in Taipei.
Lai Jeng-jer, the owner of Gin Gin's Bookstore in Taipei which specialises in gay and lesbian literature and DVDs, was charged in 2003 after customs officials confiscated more than 200 magazines imported by the bookstore. Later the same year, the Keelung District prosecutors went to the bookstore and seized more than 500 magazines, including some that are legally published in Hong Kong as well as
His
, a local publication.
At a press conference earlier last week, Lai said that he would appeal the verdict and continue to fight for justice.
"Judging from the attitude of Keelung customs officers, prosecutors and the judge during these two years, I am not surprised at the verdict," Lai said. "We [the gay community] believe that there is nothing wrong with the publications."
Gay activists and academics have denounced the verdict calling it a setback for the rights of Taiwan's homosexual community and accused the court of violating the basic human rights of homosexuals.
When asked by a judge on why gay men read the magazines sold at the store, Lai replied: "Just like heterosexual men read
Playboy
and watch porno films, homosexual men have sexual desires and deserve the same right to read pornography."
Josephine Ho, an advisor to the Gender Sexuality Rights Association and dean of National Central University's English Department, condemned the verdict for denying gay people their basic human rights.
"The verdict suggests that any sexual desire that come from the gay community is a sin. It is not only a denial of gays' human rights, but also a punishment of the empowerment of sexual desires and freedom to read, which is a serious loss to all of us, either heterosexual or homosexual," Ho said.
Chu Wei-cheng, a National Taiwan University English professor, said that Lai's sentence is intended as symbolic punishment to warn the gay community not to violate social norms. "Reading pornography is a common experience shared by homosexuals and heterosexuals," Chu said. "There is no reason to punish only homosexuals for reading or even just thinking about sex. I think we should abolish this ridiculous law."
Chu was referring to Article 235 of the Criminal Code, which Lai was found guilty of violating, and which states, "A person who distributes, sells, publicly displays, or by other means shows to another person indecent writing, drawing, or other [work] shall be punished."
Lai said that he would appeal the verdict. The bookstore which opened in 1999 is expected to remain open.
POST/READ COMMENTS
---
Activists criticise Pope for denouncing same-sex unions
Pope Benedict XVI has made his first public statement on same-sex marriage since his election - condemning same-sex marriage, abortion and genetic engineering. His wide-ranging speech at a religious convention in Rome comes just days before Italians will be asked to vote on Sunday on whether to jettison articles of a law which give embryos the same rights as born children, limit access to fertility treatment to "stable heterosexual couples," restrict to three the number of eggs that can be harvested and fertilised at any one time, and end the ban on embryo research.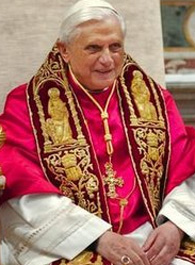 "Today's various forms of dissolution of marriage, free unions, trial marriages as well as the pseudo-matrimonies between people of the same sex are instead expressions of anarchic freedom which falsely tries to pass itself off as the true liberation of man," he said at the St. John's Cathedral on Monday evening.
His comments drew strong criticism from gay activists in Italy, Germany and the US on Tuesday as recently elected 78-year-old head of the Roman Catholic Church condemned same-sex unions as fake and a threat to the future of the family.
In Berlin, the German Association of Gay and Lesbians said the pontiff had shown a lack of respect bordering on "hatred" towards homosexuals while in Rome, Franco Grillini, a left-wing lawmaker and leading gay activist, said he had been "strongly disappointed" by the pope's "violent lecturing."
"The Catholic Church should preach universal love. Instead, we see it entrenched in a fortress intent on defending an idea of family, sexuality and relationships between people that is made up of sadness and prohibition," Grillini said in a statement.
Joe Solmonese, President of Human Rights Campaign, the largest gay rights group in the US, said: "It is unfortunate that the Pope would choose so early in his pontificate to sweepingly condemn so many faithful Catholics.
"There is a long Biblical tradition of showing love and compassion for all. It is from that tradition that so many fair-minded Catholics want to see their Pope speaking. It's sad that he's choosing to ignore that tradition and to divide his followers.
"No one in the fight for marriage equality is asking any church to perform or recognise these marriages. What we're asking for are equal rights and responsibilities under the law," Solomnese said.
German-born Joseph Ratzinger had already expressed strongly conservative views on homosexuality with a 2003 document he wrote while he was still a cardinal heading the Church's Congregation for the Doctrine of the Faith, the Vatican's doctrinal watchdog.
POST/READ COMMENTS