Correction. This report had erroneously linked the case brought by William Roy Leung and another case involving 2 men found having sex in a parked car in Tsuen Wan in April (as earlier reported in this same article which has since been amended) which is totally unrelated. We unreservedly apologise to Mr Leung for the error and for all inconveniences caused as a result of the report.

A Hong Kong High Court judge has rejected a government bid to block a judicial review of a law said to discriminate against gay men.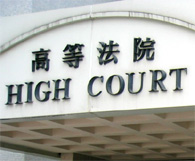 Judge Michael Hartmann ruled on Tuesday that the judicial review process over a statutory law is a "natural route" to assert one's constitutional rights. The hearing has been set on July 21.
The move was initiated by William Roy Leung, 20. As it stands, section 118 of the Crimes Ordinance prohibits male minors under the age of 21 from having sex with another male minor or male adult as well as public sex between two men. If convicted, he might face life imprisonment. The age of consent for lesbians and heterosexuals is 16 and there are no provisions that criminalise sex in public.
Representing the government, senior counsel Gerard McCoy had sought to dismiss the challenge on June 17 by asking Hartmann to overturn this original decision. McCoy argued that Leung has no legal grounds to challenge statuary laws as he has not been charged with an offense nor has a decision been made against him by the courts.
Leung however says that the law discriminates against gay men under 21 such as himself by unfairly restraining his way of life and violating his constitutional rights as heterosexuals under 21 but above 16 are not penalised. He also argues that the law specifically targets gay men as the law does not seem to apply to lesbians.
Hartmann said on Tuesday that Leung's constitutional rights were at issue. He explained, "if access to the protections afforded by the Basic Law is to be provided to those persons who, in appropriate cases, have a real interest in the matter, it seems to me that the natural route to take is by way of judicial review seeking declaratory relief."
He added that Leung does not need to be arrested for a criminal offense before he can apply for a judicial review, especially since he is only seeking a declaration to clarify the law, not to overturn a conviction.
"If the applicant is unable to directly challenge primary legislation in this manner, how else is he to assert what he considers to be his constitutional right?" Hartmann said in his judgment.
In any case, the issue is one that "profoundly affects the private lives of a whole class of persons" and should therefore be afforded a proper substantive hearing.
Section 118 is a legal legacy of British colonial law. Britain decriminalised gay sex acts in 1967 and lowered the legal age of consent for men and women to 16 in 2002 while Hong Kong decriminalised homosexuality in 1991. The territory's government is currently examining possible legislation against discrimination of gay men and lesbians. The Bill is expected to cover equal access to employment, education, facilities and services but not same-sex marriage.