Gay and bisexual men who meet partners over the Internet are more likely to engage in risky sex but have a greater tendency to do so with people who have the same HIV status, it's been reported by Reuters.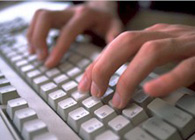 Forty-one percent of men who arranged to have sex with other men through the Internet reported having unprotected anal intercourse with their last partner, according to the Denver Public Health Department.
That compared with 31 percent of men who met partners in gay bathhouses, 29 percent who used other public sex venues and 25 percent of those who met in bars or parties, according to data collected from a sexually transmitted disease clinic in Denver in 2003 and 2004.
Dr Stephen Goldstone, medical director of gayhealth.com, says the study is a definite cause for concern for several key reasons.
"I am troubled by the 41 percent of men who have unprotected anal sex even though they believe they are the same HIV status as their partners," says Goldstone.
"The possibility of becoming infected with a more resistant strain of HIV remains if you are both positive. Moreover, a partner may say he is negative when, in fact, he has not been tested recently. This exposes the truly negative partner to infection with HIV from a partner who thought he was negative but was really positive."
The Colorado study also found that 51 percent of the men who used the Internet to meet had chosen a sex partner with the same HIV status as themselves, compared to 20 percent of bathhouse patrons.
Coupled with two other studies suggesting many HIV-positive gay and bisexual men are deciding to have sex based on viral load counts - the amount of HIV detectable in a person's blood - the findings prompted warnings from health officials.
The studies were presented at the 2005 National HIV Prevention Conference in Atlanta.