Come November 4, the island of Phuket will be transformed into the ultimate gay getaway as throes after throes of GLBT partygoers descend on its pristine shores for an unprecedented three days and three nights of non-stop circuit partying. So as part of the lead up to Nation.V, Fridae is proud to present its GLBT Guide To Phuket!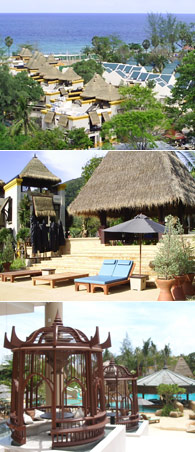 Sold out: Nation.V host hotel Crown Plaza Karon Beach Phuket.
Why go there:
Simple - it's ground zero for the biggest gay party in Asia, Nation.V, which will be held for the first time in Phuket from November 4 to 6. And there's really no better time to visit Phuket than early November to middle February where the temperatures are pleasant and not likely to make your pet Cactus wilt.
Where to stay:
Definitely Nation.V host hotel and gay central Crowne Plaza where all the afternoon pool parties and after-hours parties will be held. Unfortunately, since it's sold out over the weekend, partygoers could stay at the nearby Karon Sea Sands, Andaman Seaview, Hilton Phuket and other partner hotels listed on
www.fridae.asia/nation/hotels.php
.
Where to workout:
Attending a massive circuit party like Nation.V is akin to appearing on the reality TV show "Are You Hot?" where Z-list celebrities use laser pointers to highlight your perceived flaws. To pump up your muscles (especially for the poolside parties), you can either work out at the gym at your hotels (check ahead to see if they have one) or pay 120 baht for a daily pass at Patong Gym where shirts are optional. The gym is open daily from 9AM-9PM and is located one block beyond the intersection of Bang-La Road and Rath-U-Thit, just behind the Pizzeria Hut.
Where to play:
Phuket is internationally renowned for its sun, surf and sand. For sunbathing, swimming, para-sailing or beach volleyball, you could visit the well-known Patong Beach, Kata Beach and Karon Beach (usually packed with tourists, locals hawking merchandise and gay men anxious to work on their tans), or you could venture off to the more private Nai Yang located near the nature reserve (mosquito alert!). The more adventurous ones could even island hop to the nearby Kai Island or Phi Phi Island for snorkeling - that is if you still have energy left after the Nation.V parties.
Connect Guesthouse organises a gay tour to Koh Kai every Saturday for 1,500 baht per person (price includes transfers, snorkeling and barbecue lunch). Reservations are required and can be made by emailing
connect@beachpatong.com
.
Phuket is also known for its underwater sights and popular dive spots include The Shark Point (Hin Mu Sang), King Cruiser Wreck, the Similans and Phi Phi (pronounced Pee Pee) Islands. Avid divers can contact one of the many dive centres for more info.
(Note: Red flags are planted on beaches as a warning for strong rip currents and other dangerous underwater conditions (no, that doesn't include relieving yourself in the sea). So if a red flag is flying at a particular stretch of beach, don't go into the water - not even if it's to attract the attention of the cute lifeguard on duty.)
---
Where to party:
You can't be serious. With back-to-back Nation.V parties stretched over three days and nights, there's really no need to go club, pub or bar hopping. However, if you're one or two days early or intend to stay on after November 6, just head on down to Paradise Complex which houses most of the go-go clubs and bars, and take your pick of the man-meat on display. For the breakdown of the go-go-going rates for go-go boys, check out
Fridae's Phuket city guide
.

Fresh seafood and grilled meats at beach and street-side stalls; bottom pic: Wat Suwan Khirikhet (Wat Karon) which is located less then 10 minutes walk from Crowne Plaza.
Where to shop:
There are those amongst us to whom a holiday would be incomplete without a shopping spree. For those incorrigible shopaholics, there is the one-stop shopping and entertainment complex known as Central Festival Phuket which houses the famous Thai department store Central. There are also numerous shops lining the major beaches selling clothes and tourist-type mementoes, a big market on Thaweewong Road as well as a night market on Rath-U-Thit (bargain hunters stampede!).
Where to eat:
For gays and lesbians with taste, there's the very hip Asian concept restaurant and bar Phuja Nirvana at Central Festival Phuket. For traditional and modern Thai food, there's the gay friendly Kah Jok See, the lesbian-owned Lair Lai Tong and the gay-owned Lim's Restaurant & Bar. And finally for those with a strong stomach and low hygiene standards, there are many street-stalls offering cheap yet tasty treats. For more recommended eateries, go to
Fridae's Phuket city guide
.
Where to sightsee:
While its beaches and neighbouring islands are its main attractions, Phuket - or more specifically, Phuket Town - does house interesting temples which are worth a visit. The more notable temples include Wat Phra Tong with its half-buried Buddha image and the 200 year-old Wat Phra Nang Sang. Nation partygoers will also find it convenient to visit Wat Suwan Khirikhet (Wat Karon) which is located less then 10 minutes walk from Crowne Plaza. Visitors to all temples should ensure that they are "appropriately attired" - in other words, think less Jessica Simpson in her "These Boots Are Made For Walking" video and more Jane Seymour in "Dr. Quinn, Medicine Woman."
For a more mano-a-mano type of entertainment (no, I'm not referring what you intend to do in your hotel room with that cute twinkie), Nation. V party people can opt for Muay Thai or Thai Boxing fights at the Sapan Hin Stadium in Phuket Town every Friday night.
Where the girls are:
Girls and women can join hands in Sapphic celebration at the inaugural Girl Pride Asia festival which will be held concurrently with Nation.V. The 3-day event, dubbed the first lesbian pride festival in Asia, will include a film festival, pool parties, a dance party Shine, readings and music by and for women. More details at
www.girlprideasia.com
.
Where to relax:
After an entire night trying to balance and execute nifty dance moves while standing atop one of the booming speakers at any of the party venues, there's no better way to soothe your aching muscles than a visit to any one of the many spas in Phuket including the Montra Spa at Arahmas Resort & Spa and the Sukhothai Spa at Baan Sukhothai Hotel & Spa. Traditional Thai and oil massages are also available at any of Phuket's many beaches at a fraction of the prices charged by spas.
Now for some final travel tips: (1) Don't forget to pack eye drops to provide relief from the visual candy overload; and (2) Bring along an extra pack of Deep Heat Salonpas Plasters for the stiff neck you are sure to develop after executing one too many "1-2-3 Turns" when checking out the cute guys and/or gals.
Editor's Note: For more information about Phuket, click on the link below to visit Fridae's Phuket city guide. Online sales of Nation.V All Access and Weekend Pass end 31 October. Passes and tickets to individual events will be available at the door and at the Nation Customer Service Centre at Crowne Plaza from 3 November.