In Hong Kong recently, Brokeback Mountain director Ang Lee said Asian audiences are more "accepting" of gay subject matters in films than American audiences. Alas, that may mean the film won't do as well in this part of the world as in America.

The film is very well made, there is no doubt about that, but the buzz surrounding it comes as much from its social significance as from its quality, and that social significance is rooted in the culture wars currently raging in the United States.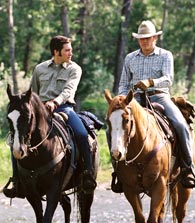 Brokeback Mountain
takes an icon of American masculinity - the cowboy - and subverts it. The impact of doing so is naturally greater in a society that has invested in that icon than one that has not, rattling Americans much more than those outside.
Some Americans were even quick to blast the film for telling an untruth. Wyoming playwright Sandy Dixon declared she had never met a gay cowboy and thought the movie was damaging to the cowboy image. "(T)hose that know real cowboys will say it's all hogwash," she said.
Wyoming, of course, was where the film located the homosexual relationship, which explains Dixon's peeve. It's also one of America's most conservative states, where in 1998, university student Matthew Shepard was brutally murdered on account of his being gay.
With that history, and generations of trust in the pure manhood of Western cowboys, a film about gay cowboys cannot avoid taking centre stage.
The very monicker - the 'gay cowboy movie' - tells you what it represents to Americans rather than what the film is about. Those of a more captious bent will remind us that up on
Brokeback Mountain
, the two lead characters weren't even cowboys, they were shepherds, and quite arguably, through most of their lives, the men might not even have seen themselves as gay.
They developed a relationship, something that happened not of their own choosing, and certainly not one that would fit with any life-plan that they could conceive of, at least not one that was safe. All they knew was that men were supposed to get married and provide for their families, and that's what they did.
Identity politics
The identity politics that we so associate with the gay issue didn't catch fire in America until a few years after their 1963 summer up on
Brokeback Mountain
, and probably didn't reach Wyoming for an even longer time after that. Ang Lee himself keeps repeating that it is an epic love story, not a gay tale, and the story is poignant only because it is isolated from the politics. The men don't know what to make of their private feelings for each other - they hardly have a name for it - nor do the communities in which they live make any allowance for it. Throughout the film, homosexual attraction remains unspeakable, while the first thing that gayness demands is to render it speakable.
Thus, it may well be a story that can resonate just as well with Asian societies. Here, identity politics is much more recent, if it has begun at all - and looking at Vietnam or Cambodia, it may not.
---
In this part of the world, tens of millions of men with longings for other men still aren't sure what name to put to this side of their selves. Most of them still accept that they should be getting married, if they aren't already.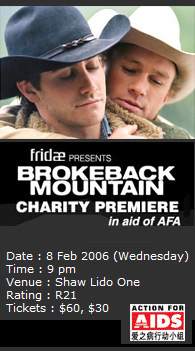 This is especially so if they live, not in the metropolises like Tokyo and Hong Kong, but in small towns in Henan, Isaan or Gujarat or the Visayas. Their hardscrabble lives resemble most closely that of Ennis Del Mar's, their options just as limited. For them and their wives, the emotional emptiness of their marriages must be just as profound as the two marriages in
Brokeback
.
Perhaps some among their families and friends know where their real interests lie, and may even sympathise, for one of the great currents of Asian thought is that of tolerance and compassion. This may be why Ang Lee feels that Asian audiences are more accepting.
No controversy, no screening?
But it also means that gay themes in movies are far less controversial than in America. In fact, almost every country in Asia with a homegrown movie industry has made the occasional film with gay male themes, and more with incidentally homosexual characters.
Happy Together
, a film by Wong Kar-wai, which took the 1997 Cannes Best Director's prize, comes immediately to mind, as does
Lan Yu
by Stanley Kwan, 2001, and
My Brother Nikhil
by Onir, 2005. As for incidental characters, Tsai Ming-liang's early films were always populated with at least one.
So a movie like
Brokeback Mountain
, while seen as iconoclastic in the US, is likely to be seen in Asia as just another film, albeit an award-winning one by an Asian filmmaker. The buzz is all entertainment news, not biting social criticism. That being the case, how many heterosexuals will take the trouble to see it, is an open question.
Most of the tens of millions of conventionally married homosexual men in Asia will not get to see the film either. Nor will their wives, to whom the characters of Alma and Lureen (Ennis' and jack's wives) must be painfully relevant.
It has already been reported that
Brokeback Mountain
will not be distributed in China. Since the government only allows 20 foreign films to be imported each year, and
Brokeback
is not at all likely to be a blockbuster, it doesn't make the quota.
The Malaysian distributor has also decided against showing it in that country, this out of deference to Muslim sensitivities about homosexuality.
Even if the film reaches a country, it is not likely to get into the small towns where Asian equivalents of Ennis, Jack, Alma and Lureen live. The market is just too thin, and it's too thin partly because it isn't a burning issue in many Asian countries. There is quiet suffering of course, but also just enough avert-one's-eyes tolerance to let the suffering go on in suspended animation. There is little information about alternatives to enable people to re-assess who they are and what they can do with their lives. Ang Lee's film would do wonders to open people's eyes and get them to think, that is, if it ever reaches the hinterlands.
All the more then, the Mountain may be an opportunity missed.
A post from a woman whose wrote about her husband and his best friend on BrokebackMountain.com:

"I plan on seeing this movie. I know it will remind me of my husband and his best friend of many years. If you think it is tough on one of the men involved in this kind of romance, I can tell you it is hell on earth for one of their wives. I don't know if they have expressed their love physically and will probably never find out, but it has been obvious to me for many years that they are in love with each other. For any of you men out there who are in this situation, I urge you to leave your wives for the other man. It is actually the kinder thing to do, as those of us who are the wives, are suffering also. It is better not to live your life with a lie."