Fridae speaks to Sydney-based Kate Monroe about Feelin' Good, DJ'ing and her Angelina Jolie fantasy.

æ: ASOL (Age, Sex, Occupation, Location)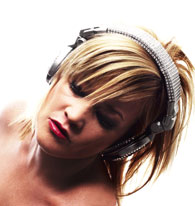 Australia's "First Lady of House" Kate Monroe.
Kate Monroe, Female, DJ/producer, Australia
æ: Everyone at Nation (Phuket) was blown away by your set, Claudy Rockelle wrote in To Be magazine (Canada): "Have you heard of Kate Monroe? Yes, that pretty fun-loving girl has swept my heart. A refreshing change to what we in North America always hear. She definitely had the crowd cheering. So, if you're a music aficionado, don't forget Kate Monroe... a tough act to follow." Was it as good for you as it was for everyone who was there? How do feel about your Nation experience?
Kate: WOW!! I loved Nation! When I arrived, the pool party was in full swing and I was so impressed with all the guys, the friendliness of everyone. Then when I started, it just got better! I loved it!
æ: You've been a regular at the major gay events in Australia in years. How do you feel about being a lesbian DJ who plays for predominantly gay men?
Kate: I love being surrounded by gorgeous gay boys, it's just one of the perks of my work.
æ: Why do you think lesbians/women are not as into the circuit?
Kate: I have a number of girlfriends that are totally into the dance world/circuit scene, but we are definitely not the norm, don't know why I think we must have an extra 'GAY GENE'?
æ: Does playing at a women's party differ from playing at a men's party? And how?
Kate: I don 't really play for 'women only' or for that matter 'men only' or 'straight' parties - I just play for people who love to dance regardless.
æ: Did DJ'ing happen by chance or have you always wanted to get into it? How did you get started?
Kate: I have always been around music and have always had it as part of my life... DJ'ing has been the natural progression of it for me I guess.
æ: Other than DJ'ing, what else do you like doing?
Kate: I like being at home with my girlfriend, cooking is a big passion of mine as well. Going to spin class and hanging with my friends are all priorities!
æ: What kind of sounds and tunes can partygoers at Feelin' Good expect?
Kate: It will all be about Feelin' Good!'
æ: What do think is the best way for a partygoer to approach you if they recognise you?
Kate: With a smile.
æ: What inspires you?
Kate: People who do things from their heart.
æ: How do you spend your Sundays?
Kate: Usually I am working but for the next few weeks I'm not and I am really digging hanging out and being a normal BBQ making homebody!!!
æ: What is your vision for the gay community?
Kate: For us to enjoy the rich history of art, dance, political action, and love that is ours, and to use that to inspire us to make certain that each year we strive for more equality for our people as well as people all over the world who do not enjoy the full protection and benefits that their countries can afford them.
æ: Tell us about a cause that you support?
Kate: I am very supportive of World Vision.
æ: Who would your dream date be if you were straight for a day?
Kate: If I was straight for a day, I would have a bi-sexual evening with Angelina Jolie.
æ: Tell us something even your mother doesn't know.
Kate: She doesn't know about my bisexual encounter with Angelina.
Tickets to Feelin' Good are available online at SGD$20 (SGD$15 for 18-24 y/o) till noon (+8GMT) on Mar 25 and SGD$25 at the door (SGD$20 for 18-24 y/o).