Hong Kong's gays and lesbians are set for a hot, wet out-ing this summer! Fridae in conjunction with several other local gay groups have flagged May 13 for the first Gay Day at Hong Kong Disneyland to be held. On May 14, some 300 people are expected to sail out to sea for Floatilla, an event where people rent their own boats or old-fashioned Chinese junks and have a party and picnic on the water.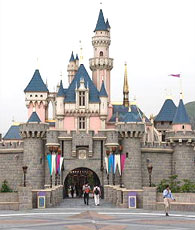 Fridae in conjunction with several other local gay groups have flagged May 13 for the first Gay Day at Hong Kong Disneyland to be held. Attendees are advised to purchase tickets in advance online. (Link provided at the end of article.)
Gay Day HK is held in the grand tradition of Gay Days in Orlando (now in its 16th year and draws nearly 100,000 people annually), Anaheim and Tokyo. Like Gay Days elsewhere, attendees are encouraged to be dressed in red to be visible and to identify themselves among other park visitors.

"Organisers" hope for Gay Day HK to become an annual tradition every second weekend in May.

First held at Disneyland Orlando in 1991, the event started as a single designated day when the LGBT community and friends were encouraged to "Wear Red and Be Seen" while visiting the world's most popular theme park. The inaugural event was first spearheaded by local activists and businesses and was attended by some 3,000 people. The one-day park visit has since evolved into a week long, citywide celebration offering round the clock activities including multiple theme park visits, cocktail soirees, concerts, and a host of internationally renowned parties.

Since its inception, Gay Days has survived both criticism and indifference and has emerged as not just a survivor, but a winner. It's been attacked by conservative religious groups, it's been besieged by undercover photographers attempting to covertly capture images of sexual misconduct in America's favorite family playground, it's endured the dire prophecies of Pat Robertson, and it has suffered the indignity of signs at Disney entrances "warning" others of the presence of large numbers of gay and lesbian visitors.

Although the event was pretty much ignored by the press and Orlando's hotel/motel industry, Hotels and motels all over Orlando have since warmed up to the event, with many signing the "Gay Days Friendly Pledge." Media reports now center around economic impact and its entertainment value rather than conflict and controversy. Meanwhile at Disneyland, the park has extended its operating hours and Gay Days visitors are welcomed by smiling cast members, unscheduled entertainment at the Castle Forecourt and fireworks display usually reserved for the peak summer season and holidays.

Floatilla, which is held for the first time in Hong Kong, promises to be another big day out for gays and lesbians.

Inspired by Splash, a predominantly gay event in Texas where organisers rent a huge double decker boat - which plays music - and attendees arrive by speedboats, the organiser of the Hong Kong event who goes by the moniker Sharkbait hopes to have one event at the beginning and end of summer annually.

"The idea is that this is to be low maintenance, everyone just grabs their boats and hits the same location. I thought since Hong Kong's so into junk boats all summer, why not just take our junk boat concept and everyone meet at the same place, pull out a DJ and do it Hong Kong Style!

"Boys, music, food, sun, cocktails, swimming, friends, bathing suits - not a bad combination!" He quipped.
---
Like Gay Day HK, Floatilla attendees are encouraged to gather their friends and organise the day out themselves by renting a boat although organisers will try to match people who want to get a space on a boat and boats with room to fill.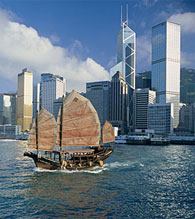 Some 300 people are expected to attend the not-for-profit event as almost 10 boats are confirmed. Aside from the "Mothership" where the DJ will be based, other themed boats include Fridae, Fruits and Suits, Dim Sum Magazine, G Magazine, HX Production and Les Peches, a lesbian boat.

Attendees are encouraged to swim from boat to boat and meet new people and to welcome others onto their boats as they are anchored off Lamma Island which is a half-hour boat ride from Central.

"The more people get 'into it' the more fun it will become. Funny enough, you add all these groups together on all these boats... It feels like a gay pride party on the water. Who needs a parade?! " Exclaimed Sharkbait, who prefers not to be named and for the event to be the focus.

The response has been very positive so far, says Sharkbait who explains further: "People immediately love the idea. I think the one reason people love it is it is quite inclusive. Secondly, it's simple, just tell everyone where to meet, and we're all there."

In related Hong Kong news, the second International Day Against Homophobia (IDAHO) parade is scheduled for May 21, 2006 in Causeway Bay. According to the official website, some 350 supporters marched last year and some 500 are expected this year.

Attendees intending to rent boats are reminded to do so soon as advised by the organiser. A limited number of tickets on the Fridae boat are on sale online in the Fridae Shop at a later date. If you require more information or are keen to join other boats, contact Sharkbait at floatillahk@yahoo.com. A docking fee of HKD40/person is payable to the organiser to offset the DJ cost. For updates on Floatilla, visit http://www.geocities.com/floatillahk regularly. For Gay Day HK, tickets are to be purchased directly throughDisneyland. Attendees are advised to purchase tickets in advance.

Gay Day HK is not being co-organised nor in any way associated with Disneyland Hong Kong.

Gay Day HK and Floatilla are not-for-profit, and are supported by Fridae, G Magazine, Dim Sum Magazine, Les Peches, Fruits in Suits, HX Production, Cocktails and other gay and lesbian organisations in Hong Kong.