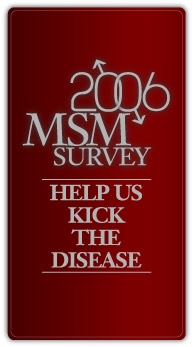 The facts.
In 2005, four out of five persons diagnosed with HIV infection at the Anonymous Test Site were MSM. Of all MSM clients at the test site, 4.3 percent tested positive for HIV. Seventy-one more MSM were notified with HIV infection.
Among MSM attendees at the DSC clinic in Kelantan Road in 2005, cases of early infectious syphilis increased 84 percent and cases of gonorrhea increased 64 percent over 2004 in MSM. Sexually transmitted infection rates (STI) among MSM are escalating and we believe we are only seeing the tip of the iceberg with STIs in the community.
AfA is planning a concerted effort to increase safe sex behaviours among MSM this year and we are inviting collaboration and suggestions from you. Send us your comments to
info@afa.org.sg
An AIDS Awareness Seminar (in Mandarin) will be held on 20 and 27 June 2006 at Xpose Cafe and Bar located at South Bridge Road, Singapore. Click here to sign up.