Sexual orientation 'affected by number of older brothers'
Having several older brothers increases the likelihood of a man being homosexual, according to a new Canadian study.


Men are more likely to be homosexual if they have older brothers, says a new Canadian study.
Past research by Dr Anthony F. Bogaert of Brock University in St. Catherines, Ontario and colleagues has shown that the more older brothers a man has, the more likely he is to be gay. At the time, it was not clear it was a result of a prenatal effect or a psychosocial effect, related to growing up with older male siblings.
What's new this time is that Bogaert discovered that even if a young man did not grow up in the same house as his older brothers, the fact that he had older biological brothers increased his odds of being gay.
This suggests that a man's sexual orientation may be influenced by the conditions in his mother's womb when he was a foetus, rather than social factors.
To investigate, Bogaert studied 944 gay and straight men, including several who were raised with adopted, half- or step-siblings or were themselves adopted. He reasoned that if the relationship between having older male siblings and homosexuality was due to family environment or child-rearing practices, it would be seen whether or not a man's older brothers were biological or adopted.
"Only biological older brothers, and not any other sibling characteristic, including non-biological older brothers, predicted men's sexual orientation," Dr Bogaert said in a paper published in the Proceedings of the National Academy of Sciences (PNAS).
He found the link between the number of older brothers and homosexuality only existed when the siblings shared the same mother.
The amount of time the individual spent being raised with older brothers did not affect their sexual orientation.
"These results support a prenatal origin to sexual orientation development in men and indicate that the fraternal birth-order effect is probably the result of a maternal 'memory' for male gestations or births."
He explained that a woman's body may see a male fetus as "foreign," thus prompting an immune reaction which may grow progressively stronger with each male child. The antibodies created may affect the developing male brain.
"If this immune theory were correct, then the link between the mother's immune reaction and the child's future sexual orientation would probably be some effect of maternal anti-male antibodies on the sexual differentiation of the brain," he suggests.
---
HK actor-singer Andy Lau denies rumors he's gay
Veteran Hong Kong actor-singer Andy Lau has denied rumors that he is gay when asked during a TVB station interview.
Veteran Hong Kong actor-singer Andy Lau said, "I'm not, but if you say I am, I don't think it's a bad thing" when asked if he was gay.
Lau said, "I'm not, but if you say I am, I don't think it's a bad thing. Maybe my attitude has caused misunderstanding. I've never pronounced loudly I'm not gay, and I don't think there's the need to do so."
"I have gays friends," said the 44-year-old in the current issue of the Ming Pao Weekly magazine on Sunday after the interview was aired on Saturday.
Asked about experiences with gays showing romantic interest in him, Lau said, "It's very direct. They're a very frank crowd."
In the interview, he also spoke about whether he would want to pursue his acting career in Hollywood as other Hong Kong actors have done.
He revealed that he had auditioned for the Hollywood movies
M. Butterfly
and
Dragon: The Bruce Lee Story
.
Lau has said he refused a role in
M. Butterfly
- about a love affair between a Chinese transvestite and a French diplomat - because he found a scene offensive.
"I asked the director if he could change that scene."
"I said I'm a superstar in Asia. This movie factors in the Asian market too. If I do that, it will affect my image." The director refused.
"To them, I'm nothing," Lau said. He said the lead role in
Dragon: The Bruce Lee Story
went to Jason Scott Lee because he's a better fighter.
When asked if he would try again, he said: "I don't think they have any roles to offer to Asian men... It's not something I have a great desire to do. The reality is they rarely make movies with Chinese. I don't think they respect Chinese, unless I make a film directed by a Chinese director."
---
Prince disinherited for coming out publicly
The scion of a former royal family in India said Sunday he has been disinherited for admitting he is gay in a local magazine three months ago.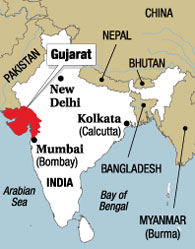 "I told my parents I was gay," Prince Manvendrasinh Gohil told NDTV news channel in an interview. The 40-year-old activist prince belongs to a family which once ruled the state of Rajpipla in the western state of Gujarat. Indian royals were stripped of their titles and kingdoms in the 1970s.
Earlier this year, he took the plunge, coming out to the public, becoming the first blue-blooded gay Indian.
The
Indian Express
newspaper said he was publicly disowned by his parents has week by putting two different notices in a leading vernacular daily in Vadodara put an end to his claim to the family property.
"Manvendra is not in control of his mother and involved in activities unacceptable to society," says one of the notices issued by his mother. "Hence, he ceases to have rights as a son over the family property and the power of attorney issued to him also stands cancelled. Henceforth, no one must refer to my name as mother of Manvendra. If any individual or organisation dares to do so, it will invite contempt proceedings against him."
Gohil said he had no regrets revealing his homosexuality and bore no grudge against his parents.
"I knew that they would never accept me for who I truly am, but I also knew that I could no longer live a lie. I wanted to come out because I had gotten involved with activism and I felt it was no longer right to live in the closet."
"All I want to do is to ensure there is a discussion and people talk about homosexuality and that we get some sort of social status," said Gohil who is chairperson of Lakshya Trust, a Vadodara-based NGO working to check the spread of HIV/AIDS among the gay community in Gujarat. His work includes liasing with Humsafar Trust, Mumbai, and Lakshya, which is documenting and counselling MSM (men who have sex with men) on prevention of HIV/AIDS and sensitises society on the gay community.
Indian laws against gay sex were originally enacted by British colonial rulers in 1860. They include up to 10 years' imprisonment and a fine, or both, for anyone found guilty of "carnal intercourse against the order of nature."
Although the law is rarely enforced, its existence remains a source of irritation and anxiety for gays and lesbians in India.
The prince has reportedly secretly gave financial help to a gay helpline in Gujarat for years before he came out, before setting up a trust to work for greater AIDS awareness.
He said he was resigned to being cut off from his parents and their fortune, which is based on extensive properties in Gujarat and Maharashtra state.
"I have no regrets since I have found family in the community. Ashok Row Kavi [a well-known activist and publisher of
Bombay Dost
, India's first legally registered LGBT publication] is like my godmother. I will continue my activism and fight for my rights in India and wherever else I'm required to," says Gohil.