Fifteen feature and short films including six Korean ones will be shown at the 2007 Seoul Lesbian, Gay, Bisexual and Transsexual/gender Film Festival from June 6 to 10.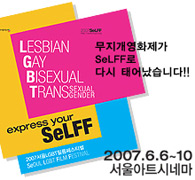 Organisers of the newly created festival, dubbed SeLFF in English, said in a statement on the festival's official web site, "Seen through the camera, queer folks' passion for life and the reality that they face around the world will help all audience members to affirm themselves and provide them with a unique and delightful outlook on life."
"This is why the English acronym of the reborn film festival not incidentally sounds exactly like the word 'self,' for we hope that the SeLFF will serve as an arena where you start with your own selves and meet other selves."
The festival will open with Oscar Wilde's classic tale of vanity and depravity
The Picture of Dorian Gray
(2007), which is co-produced by the United States and Britain. The film portrays the internal torment of the rich and beautiful Dorian (David Gallagher), whose corrupt inner-self surfaces through the video artwork created by an admirer.
Out: Smashing Homophobia Project Out
(2007), the second installation in the Feminist Video Activism WOM's anti-homophobia project, consists of three omnibus documentaries shot by three teenage lesbians in Korea who are struggling with their sexual orientation. Produced with support from the Korean Film Council, the film won the Ock Rang Award at the 2007 Women's Film Festival of Korea. Following the screening on June 10 (1:30 p.m.), the audience can participate in a discussion with the filmmakers.
Tickets for all movies cost 5,000 won (approx US$5.40) and can be purchased on the site at Seoul Art Cinema, located in Jongno-gu, or online in advance at www.yes24.com, www.maxmovie.com, and www.ticketlink.co.kr. For more information about the film festival, visit www.selff.com or call (0505) 303-1998.