In a highly unusual and controversial case which made national and international headlines last week, Dutch authorities have arrested four men suspected of deliberately infecting gay men with HIV.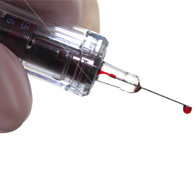 The matter came to light last Wednesday, when police said they had arrested three seropositive gay men two weeks ago after four victims, men aged 25 to 50, went to the police. According to police and prosecutors, eight more victims have come forward since the case was publicised.
Victims have alleged that they were drugged at the sex parties organised by the men and injected with HIV-contaminated blood taken from the organisers.
Three of the four HIV-positive men in the northern Dutch city of Groningen, where the alleged crimes took place, have been charged with rape and "premeditated severe assault." The men could face a maximum penalty of 16 years in prison.
Prosecution spokesman Paul Heidanus said that the men would not be charged with attempted murder "because of a Supreme Court ruling that found AIDS should no longer be seen as an inevitably fatal disease, but rather a chronic illness."
Two of the men - a couple aged 48 and 33 - have admitted that they arranged dates with gay men through Internet chat rooms. At the parties, they secretly spiked the drinks of the victims with GHB, commonly known as the "date rape drug," sometimes in combination with ecstasy.
"The motive to do this was the 'kick,' and the feeling that unsafe sex is 'pure,'" a police chief said at a news conference.
The fourth suspect, who is not suspected of involvement in the rapes, would face drugs charges for allegedly selling "a considerable amount of drugs," including Ecstasy and GHB, an intoxicant that is sometimes known as a "date rape" drug, police said in a statement.
"The victims said they had had been made helpless or unconscious and then abused," a police statement said. "They had... involuntary and unsafe sex with one or more of the suspects."
Expressing shock and disgust, Henk Krol, the editor of a homosexual magazine titled
Gaykrant
, said: "These people were drugged, it's therefore rape, pure and simple. It's shameful, disgusting and terrifying. Those who did this are crazy."
"That homos organise orgies is nothing new, but this is something else. This is unimaginable," said Frank van Dalen, the president of a gay rights group called COC, was quoted as saying.
A judge on May 16 ordered the suspects be held for 90 days as the investigation is still ongoing. Police said they did not rule out further arrests, and urged other victims to come forward or to contact a help line to receive HIV testing.