When I was asked several years ago to visit a sauna to gather first hand information about the subculture, I crumpled onto the floor like a gazelle gunned down by poachers on Discovery Channel and had to be revived by smelling salts.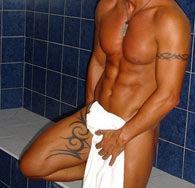 My distress was predicated on the stereotype of gay saunas as sleazy and furtive underworlds where sweaty predators lurked at every dark corner - ever ready to pounce on vestal virgins such as myself and ravish us on the spot ("Oh! Spare me kind sir!").
To make matters worse, there's the dress code which comprises nothing more than a towel the size of a Lilliputian blanket and the unspoken requirement that every gay men who dares step into a sauna should at least have memberships to California Fitness and GNC.
For some gay men, there is the additional worry about bumping into a fellow colleague, an ex-boyfriend, etc, or worse, receiving an outright rejection in front of sauna spectators - all of which are enough to cause even the strongest of gay men to break out in cold sweat.
However, yours truly is nothing if not professional and I overcame my initial reservations by reminding myself of my mission to contribute to the gay community - no, not by spreading my legs, but by offering penetrating insights into the world of dark rooms and mazes.
So last weekend, I made my dewy debut at a famed men's club with a towel wrapped around my head a la Erykah Badu - thereby eliciting the compliment from the management that my appearance at the sauna was causing quite a stir!
(Editor's Note: By causing a stir, I believe that they were referring to the fact that the sight of an effete and cadaverously pale Alvin Tan actually has the opposite effect of causing a stampede out of the sauna.)
On my subsequent visits to other saunas (purely for research purposes of course), I found local gay saunas (and I believe, gay saunas all over the world) to be well-oiled meat marketplaces with an operating rule discernible even to Helen Keller.
Simply put, the good-looking will always gravitate towards the good-looking (duh!). The mere mortals and the fugly will also gravitate towards the good-looking but will only succeed in driving the good-looking off - unless the pickings are particularly scarce that night.
Notwithstanding this basic rule, there are broad categories of sauna sextizens who can be found (and in some cases, avoided) in most, if not all, saunas. Firstly, there will always be the coy courtesans who waste time playing hard-to-get. These men will almost always overdo the eye-contact-smile-and-walk-away-then-turn-and-cruise-some-more routine.
Word of advice to you coy creatures: When you are roaming around wearing nothing but a towel in a room of scantily clad men, it is unnecessary and may in fact be counterproductive to pretend that you have reservations about getting laid.
Then there are the men magnets with their killer looks and to-die-for bodies. You can usually spot them a mile away by looking out for a crowd of horny guys circling around them like vultures around carrion.
Speaking from personal sauna sexperience, I would however advise against making a move even on men magnets - until you have seen all the goods. I once chanced upon a celestial creature only to have him open his towel to reveal an erection no larger than a pacifier.
At the other end of the sauna scale, there are the scary sauna stalkers who follow their intended targets around like starving lionesses stalking their prey. Unfortunately, once you have one on your tail, you cannot simply clap your hands twice and say "Begone, foul one!"
To sauna stalkers, I would just like to say that no one enjoys getting harassed and chasing someone down darkened corridors is likely to either freak him out or irritate the hell out of him - thereby diminishing your
already slim chances of getting to know him better.
Equally annoying to sauna sextizens would be pesky fifth wheels who wait for two guys or a group of guys to get it on before crashing the party. As a sauna species, fifth wheels have the hide of a rhinoceros and the uncanny ability to show up uninvited however private the party may be.
Faced with the very real possibility of coming face-to-face with coy courtesans, sauna stalkers and pesky fifth wheels, it therefore behooves yours truly to offer some basic sauna sextiquette for gay men making their first forays into their local saunas.
The first rule is simple: If you waste too much time waiting for each other to make the first move, you will both probably end up like Miss Havisham in Charles Dickens'
Great Expectations.
Considering that saunas are so dimly lit that any proper identification would be impossible and that sauna sexperiences are likely to be once-off encounters, you should discard any faux sense of shyness and approach the guy (or guys) who caught your eye.
When making the first move, do observe the reaction from the other party. If the interest is mutual, then you can lead the way to a more secluded corner or cubicle. If it's not, don't throw a hissy fit but rather retreat graciously and move on.
Conversely, if you are not interested, make it clear by not smiling back or by moving to another spot. Always bear in mind that you're dealing with a fellow human gay. So even though the encounter may be anonymous, there's really no need to be rude. Instead, say "no" and do so as politely (but firmly) as possible.
Having said all that, I must categorically state that my sauna sexpeditions are not motivated solely by the glistening man meat on display - despite rumours that I am in the running for the title of "Furthest Eyeball Popper" in the Guinness Book of World Records whenever a delectable dude walks by.
If I may speak truthfully, a trip to the sauna is always enjoyable because it allows the voyeur in me to tap into the gay grapevine and eavesdrop on conversations revolving around the bedroom antics of the more wanton members of the local gay community.
After all, where else could you enjoy an endless parade of eye candy and pick up unadulterated infotainment the likes of "You mean that butch-acting guy over there? Trust me, he's a Legs-Up Lucy." or "Don't you know? I heard he can take it up to the elbow!"
(Editor's Note: Fridae would like to remind all readers to practice safe sex at the saunas by wearing condoms and encourage readers to share their most memorable sauna sexperiences below.)