This column was first published in the December 2007 edition of LOTL.

"Don't fall for me, okay?"

Of all possible romantic Hallmark phrases to utter before our first kiss, my girlfriend had to pick that one. She could be a human contraceptive pill, I recalled thinking. What great timing to kill the moment. "Don't worry, I won't," I responded, sealing our informal contract with what turned out to be our first kiss.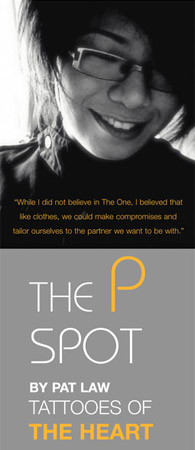 We have since broken that contract in the past six months, and even took the sappy sobloodylesbian concept of matching clothes to a whole new level, rivaled by no less than audacious matching tattoos of a motion star on our wrists. Having a collection of five tattoos geographically scattered around my body, I am no stranger to the process of embedding permanent pigments on my skin. This connection to my girlfriend, however, is symbolic. It confirms my commitment to her, in a more painful manner, than say, a pretentious and conceited Harry Winston ring. For someone who struggles to even commit to a cactus, you can imagine why my platoon of friends is bewildered.

How many times have you, between deep thrusts and clit-tingling moans, looked at that particular breathless but satisfied woman, and wondered if she was The One? Is she the one because she makes me come under 10 seconds? Is she the one because she has massive boobs I can use as pillows for the rest of my life? How the hell would I know if she is The One? Does she come with a nametag like waitresses in a restaurant? What the hell is The One anyway?

I have never been a believer of the existence of The One. As agnostic as I am, I thought I had a higher chance of having a cup of tea with Virgin Mary than to find The One to spend the rest of my life with. The size of our existing pool of lesbians is hardly Olympic-approved. I find it na�ve to think that I could find The One from waddling in this kiddy pool. While I did not believe in The One, I believed that like clothes, we could make compromises and tailor ourselves to the partner we want to be with.

And it was whilst drenched with such skepticism that I met my dontfallformeokay girlfriend. Her minus-ten-degrees nonchalance that diffuses out from her gaze seems quite a misfit with my unapologetically bashful and loud personality. We are different in more ways than one - she's academically inclined while I can't bring myself to complete the foreword of my Investment Analysis and Finance textbook; she seeks solace in her grand piano while I do so with my iPod; she fences while I, erm, poke in a different way herewith not permissible to be published.

It is because of such differences between us that I realized how much she completes me. It might sound a little too Jerry Maguire to you, but her differences balance my soul the same way milk does to a Long Black coffee.

So how do I know she's The One, I hear you ask. Trust me and my big jugs on this - when you meet The One (I pray you will be lucky enough), you will not need to ask, "Is she The One?". You will know. And when you do, please conduct a background check and make sure you've not previously slept with her sister.


In the Dec 2007 edition of LOTL:

- Girls & girls come out to play: Meet the women behind huge sporting and cultural festival, the 1st Asia Pacific Outgames.

- Presidential crush: In the lead up to the 2088 US election, one actress makes a fuss over her Hillary Clinton crush.

- New woman: Erica Zander is a male to female, lesbian-identified transsexual. Based in Stockholm she shares her life with us in this new column.

- Reflections for a new year: Photographer and writer Sonia Friedrich has some inspiring and sensual images for you.

- Dyketopia: The Internet's most popular cyberspace precinct has plenty going on for lesbians. By Vivienne Cleven.

- Las Chicas caliente!: Spain has created its own online lesbian serial, "Apples". We take a sneak peek.

Click on the related link below to read more (no subscription required)�