Well, if the stock in MANifesto - a fairly new closet-sized underwear store for "men with spunk" just behind Beijing's iconic Forbidden City - is anything to go by, it's got a lot more to do with the strategic placing of elastic than a Broadway musical.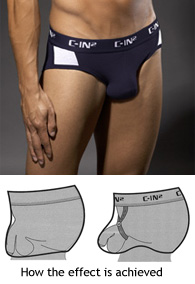 Top: MANifesto, a new underwear store located just behind Beijing's iconic Forbidden City.
Campy keks these days, it seems, are all about the pouch. Billowing out from the front seams, much like a baggy hair net, the supplementary sack offers just enough space for the homosexual to get a little homoerectus. If a gauzy crotch pocket is not your thing, the store also stocks jockstraps (kong kong ku in Chinese, or "buttock bra" was one helpful suggestion from a customer), gladiator-style lycra body suits, and more conventional briefs, albeit with cheeky designs. All that's missing are the leather chaps.
But it's not just MANifesto's naughty knickers that are noteworthy. The fact that Beijing now has a gay-friendly underwear store, a stone's throw from the seat of power, Zhongnanhai, is a sign the Chinese capital is becoming much more twenty-first century in its attitude towards queers.
Singaporean Kenneth Tan, founder of MANifesto, says he has been encouraged by how fast the mainland is changing.
"In the last five years that I have been in China, I have seen a metamorphosis, not just in Shanghai and Beijing but elsewhere as well," he says. "Shanghai has a massive scene (by Chinese standards) and I think Beijing would have to do a lot more to catch up, but I definitely think that everything's moving in the right direction."
He opened the first branch of his designer underwear store last year in Shanghai Studio, an intimate gay bar in the commercial capital. His Beijing branch opened this summer, tucked away between the tourist tea shops and xiao maibu's on Nanchizi Street. Tan says he chose the out-of-the-way location on purpose. "It is a very discreet little store - one that offers you great privacy while you're shopping - something that I think our customers appreciate a lot," he says.
Business in Beijing, however, appears to be slow. On a weekday night last month the sales clerk says he only makes an average three to four sales a day. "Look they have so few customers he hasn't even figured out how to use the till yet," jokes one customer.
Tan refused to discuss bottom lines but did say the store did a lot of its business online. So what are their top selling undies? It appears the Chinese male this season is favouring the pant equivalent of the push-up bra - a pair of briefs with an interior sling which cups and enhances the size of the wearer's tackle.
"The Sling Support C-IN2 has been selling like hot cakes around the world, but is still pretty new to local men. We are often out of stock!" he says.
I took Phil, a gay British expat, to the Beijing store, to get a professional opinion.
"It's very George Michael," he laughs. "And can I just say, for the record, they all look very small."
But Tan denies his pants are on the tight side. "All our brands are foreign brands, predominantly American and Australian and definitely a cut bigger than anything you have on the local market. If [Phil] can't fit into our stuff (yikes), I think he's going to have a very hard time in China."
The pouches were not a hit. "There's well too much friction going on here," says Phil, stretching the gauze-like material. "Can you imagine having to phone in sick from work - 'I'm sorry I can't come in today because I've singed my arse frolicking in my scanties?'"
MANifesto, says Tan, is not just for homosexuals - it's for all sexuals. Today you've got metrosexuals (men who are passionate about themselves), ubersexuals (men who are passionate about causes) and technosexuals (metrosexual geeks) before you even get to same sex sexual.
But that doesn't swing with their range of tanktops, which bear a host of cheeky homo slogans, including "Define Boyfriend," "Tunnel Inspector," "Eligible Receiver" and my favourite, "Tight end."
So why is it important for gay men to fork out 200 yuan (US$27) or more on a pair of designer underwear?
"It is important for ANY man, gay or straight, to have nice sexy underwear," insists Tan. "I think to be sexy or fashionable, it is important to start right from the very basics. I have seen the hottest guys wearing the most fashionable stuff stripping down to the most cringe-worthy pair of undies. Now that's certainly a downer!"
So what would Tan like to see his boyfriend slip on?
"Oooh definitely a nice hot pair of jockstraps to expose those hot tight buns!" he quips.
Phil eventually plumbs for a pair of white briefs, size XXL, with a gun emblazoned across the crotch. "I'm a sure shot," he grins. Later he tells me they're so tight that, "they're the kind of pants you can't forget you're wearing. Sitting down, standing up - you know they're there."
And with MANifesto so close to government headquarters, is Tan excited about the prospect of maybe Hu Jintao or Wen Jiabao stumbling across his store?
"Oooh yes, if they ever pop by some time, I would definitely make it a point to be there personally," he said
Mao would turn in his grave.