Two-time Oscar winning actress Jodie Foster is said to have finally come out as a lesbian in an award acceptance speech at the Hollywood Reporter's Women in Entertainment breakfast held at the Beverly Hills Hotel in Los Angeles last week.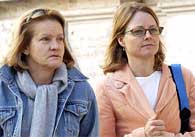 Above: Jodie Foster and her girlfriend, Cydney Bernard (left). Top: Most recently seen in psychological thriller The Brave One, Foster won her Best Actress Oscars playing rape victim Sarah Tobias in The Accused in 1988 and Clarice Starling in Silence of the Lamb three years later.
Accepting the Sherry Lansing Leadership Award at the magazine's Women in Entertainment Power 100 breakfast, Foster said, "I would like to thank my beautiful Cydney who sticks with me through all the rotten and the bliss."
Sherry Lansing is the former chief of Paramount Pictures.
It's believed to be the first time Foster has made reference to her relationship with film producer Cydney Bernard, her reported partner of 14 years. Although it is long rumoured that the 45-year-old actress is gay, she has resisted commenting on her sexual orientation.
Earlier this year, the actress appeared alongside CNN anchor Anderson Cooper on the cover of the May issue of
Out
magazine with the headline, "The glass closet: Why the stars won't come out and play". She was also named number 43 on the American gay lifestyle magazine's list of "The 50 Most Powerful Gay Men and Lesbians in America."
She said as she accepted her award: "I don't feel very powerful. I feel fragile... unsure, struggling to figure it all out, trying to get there even though I'm not sure where there is... I've been working in this business for 42 years and there's no way you can do that and not be as nutty as a fruitcake."
The couple met on the set of the film
Sommersby
in 1993 and are raising two sons, Charles, 9, and Kit, 6, at their Malibu home. Although Foster gave birth to both boys, Foster has never revealed the identity of the father or the circumstances of the boys' conception.