Melbourne Outgames Inc., the Asia Pacific Outgames organisers say most participants are from Australia, New Zealand, and countries from around the Asia Pacific region; mainly India, the Philippines, and Singapore and from as far away as Europe, Canada and the USA.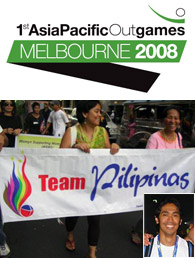 Inset: Bruce Amoroto, coordinator of Team Pilipinas
The sports for the inaugural Asia Pacific Outgames have been chosen for their popularity with the LGBT community in Melbourne and the LGBT organisations that support them. The 12 sports program includes swimming, badminton, squash, rowing, dancesport and volleyball.
Rainbow Conversations
- the Asia Pacific Outgames Human Rights Conference will be held on Jan 30 and 31. For many participants, combining sport and LGBT advocacy is a way to broaden the LGBT network throughout Asia.
Bruce Amoroto, coordinator of Team Pilipinas, (Philippine Forum on Sports, Culture, Sexuality and Human Rights) values sport as a great equaliser. "People can participate in it, regardless of status. And sport brings people together in the spirit of friendly competition. I am very excited to meet with like-minded people - athletes and sportspersons who are also into human rights advocacy and LGBT community organising."
Amoroto, who hopes to compete in the badminton in Melbourne, has attended three international gay games events. "I got involved with LGBT sport and Team Pilipinas in 2002 when I was given the opportunity to participate in the Sydney Gay Games. Initially I was there as a participant for the Amnesty International Global Human Rights Conference, but the organising committee told me I could play in a sport so I chose table tennis. And that's how I got involved with organising Team Pilipinas to participate in the 2006 Chicago Gay Games."
Amoroto also participated in the inaugural World Outgames in Montreal in 2006 where he presented a paper. "Through Team Pilipinas we aim to strengthen and promote the cultures of human rights, sexual diversity and equality through sports, culture and recreation in the Philippines and globally. We see the international LGBT sporting and cultural movement and the outgames as avenues for achieving our goals."
For Graeme Pewsey, Asia Pacific Outgames communications director, the 1ST World Outgames was instrumental in generating impetus to hold the 1st Asia Pacific Outgames. "The Asia Pacific participants at the Outgames in Montreal felt very proud to be there en masse and had a passion to maintain the momentum. Many of us came from Melbourne and as such knew we could hold a class event."
Fridae was one of the first avenues pursued for making contacts and networking, says Pewsey. "We have also been liasing with Singapore's LGBTS sports group, ADLUS (Adventurers Like Us) and Hong Kong LGBT networking group Fruits in Suits and we had the GLISA (Gay and Lesbian International Sport Association) database from the Montreal Outgames."
Asia Pacific Outgames registrations have surpassed those of the 1st North American Outgames, staged in Calgary, Canada in 2007. Effort has been made on several fronts to attract as many participants to Melbourne as possible; ALSO (Alternative Life Styles Organisation) bursaries have been available to younger local and foreign participants, the games have been lodged with the federal Department of Immigration and Citizenship, and sports such as badminton, which don't have a large following in Australia but are popular in SE Asia, and with students from SE Asia studying in Australia, have been included in the program.
Pewsey says that for some prospective participants exposing their sexual orientation can be a deterrent to competing. "We have many Asian students here who want to compete. Some have chosen to represent Australia rather than their own country because of privacy issues. For people who are not out it is risky but participants can elect the name they use on their pass."
Given the underground status of sexual minorities in Asia it has been challenging to recruit participants from some areas, says Pewsey. "When we were trying to make contacts in India, for example, initially we could find no one to liase with but we eventually made inroads through HIV organisations. In China it was similar. Many prospective participants in China said 'we can't open your website' so essentially the message has been spread by word of mouth and Internet contacts. And although for some the cost of getting to Melbourne is prohibitive it is much cheaper and closer than Montreal, or Europe" Pewsey added, alluding to the 2nd World Outgames to be held in Copenhagen in July, 2009.
There is hope that the Asia Pacific Outgames will become a regular event. Brisbane is rumoured as a possible candidate for the next games but as Pewsey enthuses, "Imagine how wonderful it would be if Singapore or Hong Kong or Japan could stage the next Asia Pacifc Outgames?"
The Outgames will coincide with the 20th anniversary of Midsumma, Melbourne's annual gay and lesbian cultural and arts festival from Jan 19 - Feb 11.
Fridae is proud to be a media sponsor of the 1st Asia Pacific Outgames.