Slated to take place on the 22nd of March, Taiwan's presidential election is being closely followed not only for how closely contested it is, but also for its political repercussions in cross-strait relations. Representing the Kuomingtang (KMT) is former Taipei mayor Ma Ying-Jeou (馬英九), while nominee for the incumbent Democratic Progressive Party (DPP) is former premier Frank Hsieh (謝長廷) who supports his party's traditional insistence that Taiwan and China should keep their political separateness.

In a first for the self-governing island, citizens were invited to film and submit questions they would like to ask the two candidates, of which 20 were eventually chosen for the debate, held on February 24. While the country's focus lay on each candidate's respective policies on the economy and relations with China, questions were chosen to represent as many different groups and be as varied in subject as possible.



Below is an excerpt of the debate in which the two candidates were asked to clarify their stances on gay marriage.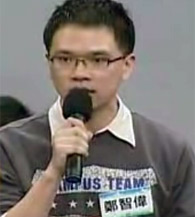 Top of page: KMT's Ma Ying-Jeou of and DPP's Frank Hsieh in televised debate on Feb 24, 2008. Above: Zheng Zhi-Wei, secretary general of Taiwan Tonzhi Hotline Association.
Zheng Zhi-Wei of Taiwan Tonzhi Hotline Association
: I'm Zheng Zhi-Wei, I live in the Da-An district of Taipei City, and am currently secretary general of the Taiwan Tonzhi Hotline Association. I 'd like to ask both parties' presidential candidates whether or not you would push for same-sex marriage laws during your term, and how would you plan to educate the public to expedite the passing of this bill?
Ma
: Hello Mr Zheng. We know that you have been an activist for several years already, and for that we'd like acknowledge your efforts. Precisely because you have been an activist, you would probably be aware that I had allocated public funding for gay rights events throughout all eight years that I have been mayor of Taipei - out of the belief that our sexual orientation is inborn and needs to be both respected and tolerated. We hope to use public spending to help spread this knowledge in order to help everyone understand, tolerate and even accept it. Now, there are two premises at stake here. The first is human rights; everyone naturally has human rights. The second is multi-faceted culture, including that of different sexual orientations. You mentioned the question of gay marriage, which is something that entails a revision of civil laws and also the establishment of a societal consensus. When I dealt with these questions in the past - including the often tense relationship between police and the gay community - my solution has been to arrange for a suitable setting for them to engage in dialogue, to generate understanding and consensus through it, and to slowly effect change through other means. I plan to use the same philosophy in relation to your question. Basically, I am respectful but cautious when it comes to same-sex marriage; I think it more suitable to push for it once we have established societal consensus. Whether in terms of judicial rulings or the establishment of the law, we would do well to reference the experience of more advanced countries when we solve this question in the future. But regardless, respect and tolerance is our basic policy.
Hsieh
: What we are discussing today in this debate is a question of law-making policies and not to explain what the situation is like today. We're talking of policy on an even higher level- e.g., whether we want to do this and whether we should allow it. I am very respectful of human rights. I don't think that love should be stopped. The love of homosexuals is still love. Secondly, couples - just like perspectives on marriage - vary widely. Now, this is what we can accept. But just as what Mr Ma just said, our society right now is not openly discussing this issue. Elsewhere, in the United States, there are also only two states with such laws. But rights cannot be waited for, so if people can choose how they love and it is acknowledged to be a right, then we can try and solve their problems first. Questions such as whether you can file taxes together if you have a partner or not, or whether gay relationships can be recognised in cases where the spouse becomes the appointed legal representative. There is also the problem of adoption and bail. These are the problems that we can first resolve step by step.
Debate moderator
: Thank you. Mr. Zheng Zhi-Wei, please follow up
Zheng:
Thank you for both of your responses, and although I unfortunately did not get a satisfactory answer from either candidate, I would like to follow up. Mr Ma, in your policies you have mentioned that Taiwan wishes to implement the International Bill of Human Rights. Ratifying gay marriage would be both a visionary and concrete step towards that. As for Mr Hsieh, there doesn't seem to be any mention of gay rights in your policy white paper - something we find to be quite disappointing. Both parties have also encountered many incidents of discrimination against gays. After so many such incidents, how do you plan to convince Taiwan's two million gays and their families to vote for you?
Ma
: If you live in Taipei, you will probably be aware of what we have been doing for gay rights since I've been elected mayor. I've always been encouraging in helping gays expand their personal freedom and space. I remember telling the cultural minister of Hamburg that we've allocated public spending to help hold gay events when he came to visit one year, to which he said that they did as well. When I asked him when they started, he replied 2000, after which I informed him that we started in 1999. In Asia, Taipei is the freest city to live in if you're gay, but that question you've raised is one that is as yet unsolved anywhere else in the world. Everyone is still trying. When gays still have to fight for basic rights, we should instead solve each problem step by step. Do you remember when the Taipei police used to raid gay venues? Since persuading and communicating with them, this has decreased dramatically - we hope that the police can understand that gays differ only in sexual orientation. Now, only after succeeding with these efforts first can we ensure better success in the future.
Debate moderator
: Thank you. We will continue by asking Mr Hsieh to respond.
Hsieh
: I've just mentioned that in regards to the freedoms and rights that gays need, some we can give and promote now. But marriage in Taiwan, on the other hand, is tied to culture and family - sometimes it's not a personal affair, so resistance will be greater. We need to form a consensus amongst ourselves first, and that includes between gay groups as well. Now, I think that what our society needs in regards to this question is more open-mindedness, or a tolerant perspective in order to appreciate it. This is what I mean by multicultural symbiosis. A lot of love and families vary in nature, but we keep insisting on a mono-centric perspective, using this to look at and judge others, saying that you have a problem, etc. Our society, beginning with our education, should help foster such tolerance.
For more info about the elections, visit
taipeitimes.com