Denmark came out early, legalising homosexuality in 1933. As such it was an obvious choice for the 2nd World Outgames, which will run over eight days from Jul 25 to Aug 2, 2009. The program includes sports, human rights and cultural events and is overseen by GLISA, the Gay and Lesbian International Sports Association.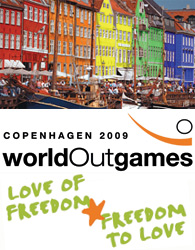 The theme for the 2009 World Outgames is "Love of Freedom - Freedom to Love," and has a deeper significance for LGBT people as 2009 is also the 40th anniversary of the Stonewall riots in New York City.
The theme for the 2009 World Outgames is "Love of Freedom - Freedom to Love," and has a deeper significance for LGBT people as 2009 is also the 40th anniversary of the Stonewall riots in New York City.
The human rights conference at the games is being held in conjunction with Amnesty International Denmark. It will provide a forum for discussion about the gains the global gay rights movement has made over the last four decades and an opportunity to discuss where it's going into the millennium.
Sports in the 38 disciplines scheduled at the games range from the popular - volleyball, badminton, bowling, and taekwondo, to the exotic - petanque, line dancing, kayak polo and floor ball. The Outgames 2009 will mark the first time that a winter sports tournament has been held in Denmark, says Tommy Kristoffersen, sports director for the games. "Interest for these events (curling, ice hockey and figure skating), especially from North America, was so strong that we felt it important to include these disciplines, even though the facilities are not normally in use."
The Outgames culture program includes a tango festival and a leather festival. And for those who prefer a more cultured take on sport there is a queer underground festival that includes the Queenie Games, says Marc Northern, Outgames Director for Communications and Media. "So it'll be the 110 meter hurdles in drag, but they've assured me they'll have ambulances standing by just in case." And if you can't squeeze into those old platforms there's the handbag throwing event.
The Lord Mayor of Copenhagen, Ritt Bjerregaard has invited the mayors of global cities to join their local LGBT community in bringing their queer arts and culture to the OutCities world festival week from Jul 26 to Aug 1.
Rio de Janeiro, Tel Aviv, Amsterdam, Mexico City, Melbourne, and Denmark's second city Aarhus will fill the squares and streets of Copenhagen with installations, events, and performances on the themes of gender, identity and diversity. The historical gay Copenhagen tour, which takes in cruising areas from the last couple of centuries will be of particular interest to LGBT visitors.
The Outgames also provide an opportunity to showcase aspects of Danish culture which are often subsumed in a broader Scandanavian image overseas, says Northern. "For example Danish cooking is not known around the world, but we will have Danish cooking classes and tasting days of Danish food. And as expected there will be traditional sightseeing activities like castle viewing."
Registrations for the games opened online on Apr 22 and close at the end of May 2009. Registration before the end of September 2008 affords an earlybird discount of 25%. Registrations for a sport or cultural package before the end of September 2008 are US$255, and US$340 for the conference.
Numbers aren't expected to top the 12,500 participants that made it to the 1st World Outgames in Montreal in 2006 but participation will be strong nonetheless, says Northern.
"We're expecting 8,000 people in total, including 6,500 sports participants, 1,000 delegates at the human rights conference, and 500 people for the cultural program."
Northern is certain visitors to Denmark will be impressed. "Check out our website www.copenhagen2009.org and think about coming to Copenhagen in 2009. The reception will be warm and friendly and a very different experience to what people are used to when they travel to places like the US or other countries in Europe."
While there are no visa waivers for the games the Danish Foreign Ministry is actively supporting the event and have set up an expedited procedure for Outgames participants. For information about visas visit The Danish Ministry of Refugee, Immigration and Integration Affairs website at
http://www.nyidanmark.dk/en-us
.