The four were among the 16 Muslim men arrested by the Kelantan Islamic Religious Affairs Department in a raid during a beauty pageant held at a resort in the northern state of Kelantan in Malaysia, according to media reports.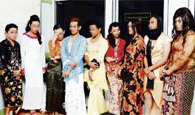 Some of the contestants who were arrested. Photo was published by the the New Straits Times newspaper.
Mohamad Abdul Aziz Mohamad Noor, the religious department chief, was quoted as saying that the four transvestites were sentenced to seven days jail and fined 1,000 ringgit (US$310) after being found guilty by the Islamic Syariah court for wearing female outfits. They are currently on bail.
The official revealed that one transvestite was released because "he wore a Malay traditional outfit" while the other 11 who were wearing evening gowns will be charged on Aug 24. The 11 are currently on bail.
The
New Straits Times
newspaper reported that most of contestants were teachers and bank employees.
It was reported that another group of 50 transvestites who were preparing to join the "Miss Universe Asia 2008" contest managed to escape arrest - several of whom dived into a nearby river. About 300 people were at the hotel to watch the event.
Abdul Aziz said it was the first time that authorities had made such a mass arrest in the state.
He said the "immoral" activities of the transsexuals, including dressing up and acting like women, were contradictory to Islamic practices.
Kelantan has been ruled by the Pan-Malaysia Islamic Party (PAS) since 1990 and is considered the most conservative state in Malaysia. Town council officials recently attracted criticism after banning women from wearing bright lipstick and high-heeled shoes so as to prevent immoral activities or rape. It also called for stricter enforcement of laws on separate male and female queues in shops.
While Malaysia has both Islamic and secular courts, the Syariah Courts have jurisdiction only over Muslims, who make up 60 percent of Malaysia's 27.5 million people.