It was a warm Christmas in Bangkok last year. Taiwanese tourist Kyan Zheng and friends decided to catch a movie there and chanced upon The Love of Siam.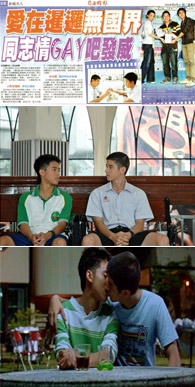 Top of page: Billboards in Taipei. Above: Press coverage of the movie (
click here to read
) and scenes from the movie.
"I could relate to the movie as if it were telling my own story," he told Fridae when the movie opened in Taipei on Sept 19.
The Thai film, which combines family drama and a teenage romance between two boys (played by Witwisit Hiranyawongkul and Mario Maurer who is of Thai-German heritage) who had lost touch but reunited in later years, touched Zheng so much that he and four other friends decided to pull money together to make it into the big silver screen.
They had to invest US$15,000 to repurchase copyrights from a local movie distributor, who decided not to release the movie on concerns of a sluggish box office market.
Generally, major Hollywood productions would fare well in Taiwan, despite a ticket price of NT$270 (US$8.50). There are a handful independent theaters that screen non-mainstream foreign titles, including those on LGBT issues, but box office takings tend to be unpredictable and typically lacklustre.
These five friends - who happen to be colleagues - are determined to make the movie accessible to the public. They made use of their network in their advertising firm, pitched proposals to different movie houses, produced promo billboards and wrote publicity material for the screening.
They had even managed to fly actor Witwisit Hiranyawongkul and director Chookiat Sakveerakul from Bangkok to hold a meet-the-fans autograph session last Saturday on Sept 20.
"It is all hard work... We are all inexperienced in distributing a movie, but it is worth it," said Wendy Chen, one of the five who have brought the film to theatres.
All the bills add up to NT$1 million (US$31,000) in total, meaning they each have to shoulder NT$200,000.
But their efforts have not gone unnoticed.
Three hundred toys, replicas of a toy featured in the movie and remade for Taiwan's premiere, were nearly sold out before the first screening. Over 1,000 tickets were also pre-sold in the first week, an achievement considering Thai flicks aren't really crowd pullers in Taiwan.
Now, box office is their least consideration as these five young executives are ready to part with some of the investment - if not all.
"We knew that some have watched the movie on the Internet, but we want to make it into the big silver screens for public viewing," Chen said.
Opening on 146 screens in Thai cinemas last November,
The Love of Siam
was the No. 1 film at the Thai box office that weekend and dominated domestic film awards last year. It won Best Picture category in all major awards: Thailand National Film Association Awards, Starpics Magazine's Starpics Awards, Bangkok Critics Assembly Awards and Star Entertainment Awards.
Bangkok Post
commentator, Nattakorn Devakula, said the film contained important lessons for Thai society. "The point that the film attempts to teach viewers - and a largely conservative Thai society - is that love is an evolved form of emotional attachment that transcends sexual attraction of the physical form."
When director Chookiat (flanked by actor Witwisit) met fans in Taipei, he told the audience what gave birth to the tear-jerking title: "I wanted to find out what is love. And if two boys have feelings for each other, does their love count?"
The two and a half hour story intended to connect to the audience by also touching on the love of family, parents and siblings, he said.
Indeed, one moviegoer was moved by the film's depiction of "love in all forms."
"I saw the music video in Thailand and it aroused my curiosity of the movie," Lin, a 25-year-old, told Fridae while queuing up to get the poster autographed in Ximending - a hip-and-happening teenage hangout in downtown Taipei.
So when he learned of the movie premiere in Taiwan, he was eager to purchase tickets to feel the big screen impact.