Calling themselves Knights Out, the group said in a Mar 16 press statement that they believe the end of the "Don't Ask, Don't Tell" (DADT) policy is "both imminent and inevitable."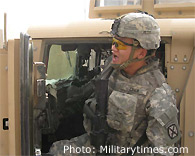 Knights Out spokesman and National Guardsman, 1st Lt. Dan Choi.
The group wants to serve as a connection between gay troops and Army administrators, particularly at West Point, to provide an open forum for communication between gay West Point graduates and their fellow alumni and to serve in an advisory role for West Point leaders if the DADT laws are repealed by Congress.
The policy, which prohibits service members from "demonstrat(ing) a propensity or intent to engage in homosexual acts," was signed by President Bill Clinton and implemented by Congress in 1993. The law prescribes discharge as the remedy for gay service members who do not remain quiet about their sexuality or do not remain celibate.
"We're publicly announcing our sexuality, our orientation," 1st Lt. Dan Choi, a National Guardsman who'd graduated from West Point in 2003 with a degree in Arabic language, was quoted as saying on the
Military Times
web site. "It's just one part of who we are in saying that we are standing to be counted."
"I'm very comfortable with all the repercussions right now. To me, it's about doing the right thing, not about trying to fit into the process that gets you the rank or prevents you from getting a discharge," said Choi, who is of Korean descent and the spokesman of the group.
"If that's the repercussion, I'm ready to take it. I think it's more important that I let everybody know that... it is a wrong policy," said the combat veteran of Iraq.
Similar LGBT groups exist for the US Air Force Academy (Blue Alliance) and the US Naval Academy (USNA Out).
Servicemembers Legal Defense Network, an advocacy group for gay and lesbian troops, claims that in the 16-year history of the gay ban, some 12,500 troops have been discharged.
President Barack Obama has listed repealing "Don't Ask-Don't Tell" as one of his civil rights goals on Whitehouse web site and is believed to be quietly conferring with officials about the policy, according to US reports.