5Degrees, a gay networking and business group in Singapore, is set to launch Pink Month - an initiative to rally the community to support gay and gay-friendly businesses during this economic down turn - on April 1.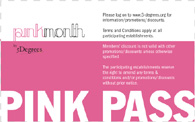 To download the Pink passes, visit
5-degrees.org
. Top of page (left to right), Pink Month organisers Kevin Foo, Tin Pinming Hong, Willie Chan, Rabil Lian and Niels Rasmussen.
The networking group, which is also marking its first anniversary in April, said the campaign was partially inspired by the film
Milk
as it believes in the openly gay politician's vision of "helping one another's businesses grow within the pink community." The group has over 800 members in its Facebook page and its monthly sessions typically attract between 30 to 100 participants.
Willie Chan, founder of the group, said the aim of the initiative is to support gay owned businesses and those companies who are friendly and non-discriminatory to the community, and to encourage networking and joint business opportunities.
"It was also coupled by the fact that we are seeing the worst recession for our generation, and as a business group we would want to do our part to rally the community to show our support for the GLBT and pro-GLBT businesses."
For the month of April, the participating businesses - many of which are gay-owned - will offer special discounts upon presentation of a Pink Pass that can be downloaded and printed.
The initiative features a variety of businesses from fashion to health to travel to bars and restaurants; including familiar establishments such as DYMK which has been hosting the volunteer-run Pelangi Pride Centre library rent-free for several years and The Garden Slug restaurant which had sponsored the catering at the receptions of Fridae's two recent fundraising movie galas in aid of LGBT community projects.
Sophia Leung of The Garden Slug restaurant said she's participating as she hopes for Singapore's LGBT or LGBT-affirmative businesses to gather strength through numbers.
"We always have that positive chi flowing through the community where we don't just take, but we give. This is the most organic way in which the Singapore LGBT business community can grow and gain real commercial presence."
SportsmenAsia's Ken Hong, who's offering a 15 percent discount off all regular items at his men's apparel store, said he wishes for the event to "generate an increased awareness that we have many diverse, enterprising talents within the community and that pink enterprise is one of the ways through which we may find common ground and give expression to our unique identity and vibrant lifestyle."
When queried about its stated criterion that businesses have to "support the GLBT cause" to participate in this scheme, organisers were quick to stress that the initiative is purely for business purposes by "encouraging the community to support our own folks" during the economic downturn.
Chan added: "A strong community support for the Pink Month will send strong signals to the business community that the Pink dollar does matter, and we hope that this will encourage more businesses to step forward to join in the next Pink Month."
For more info on the participating businesses and to download the Pink passes, visit 5-degrees.org.

In support of Pink Month, Fridae Perks subscriptions will be available at SportsmenAsia, 113 New Brdge Road, #03-36 Chinatown Point at a special price of S$30 for 6 months (UP S$44) or $50 for 12 months (UP S$73).
Pink Month events:
Apr 1, Wed - Opening Launch of Pink Month / 1st Anniversary of 5Degrees, at Play Club, 8pm
Apr 30, Thu - Closing party of Pink Month @ TwoQueens
May 1, Fri - Closing party of Pink Month @ DYMK / eBar
Ma y 2, Sat - Closing party of Pink Month @ Play
May 3, Sun - Closing party of Pink Month @ Superstar Sunday @ Zirca