Despite having several of its events being disallowed by the authorities reportedly due to licensing issues rather than them being gay linked, Shanghai Pride – the first gay pride festival held in mainland China – concluded over the weekend with a 'Big Bash' and 'Queer Olympiad' on Jun 14.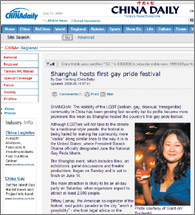 The state-run English language China Daily quoted co-organiser Tiffany Lemay, an American expatriate, as saying: "Shanghai Pride is a community building exercise. We hope to raise awareness of issues surrounding homosexuality, raise the visibility of the gay community, help people within our community to come out, and build bridges between the gay and straight communities."
According to a statement issued to Fridae today, organisers estimated that the eight-day festival drew some 3,000 people.
The garden party and barbecue held at Cotton's Restaurant and Bar on Saturday proceeded without incident although the police turned up and observed the event briefly, organisers told Fridae.
A grand total of RMB 15,380 (USD2,250) was raised for the Chi Heng Foundation, a non-profit organisation committed to HIV/AIDS prevention work among men who have sex with men and help to AIDS orphans.
"For us, this was really a community building exercise. Young Chinese people have been coming out en masse as individuals over the last few years. It's about time we started coming out collectively as a community too. That's what we wanted for Shanghai Pride and that's what we got!" Said the festival spokesperson.
On Jun 16, the state-run government mouthpiece,
China Daily
newspaper criticised the intervention by local government officials which resulted in cancellations of several film screenings and the staging of a play.
"Shanghai Pride 2009 was intended to help more LGBTs to come out of the closet. Yet government meddling clearly sent a wrong signal. It is a message denying the basic civil rights of LGBTs, who are no longer illegal in this country. It's quite disturbing to see the local authorities still adopt such a hostile attitude towards LGBTs and persist in trying to confine them to the closet in such a big city."
The commentary titled "Gay festival teaches tolerance" further cited the "uphill battle for gay rights" faced by gay activist Harvey Milk before parting with: "Shanghai has a lot to learn from its sister city of San Francisco, on tolerance and acceptance of people who are different from us."
The
China Daily
ran a total of four articles - all supportive of Shanghai Pride - since Jun 10 which some watchers say is to aid foreign diplomatic relations since the Chinese-language press has made no mention of the festival whatsoever to date.
Related articles in China Daily:
-
Gay festival teaches tolerance
(Jun 16)
-
Gay party starts to lose its sparkle
(Jun 12)
-
Pride of tolerance
(Jun 10)
-
Shanghai hosts first gay pride festival
(Jun 10)
Statement from Shanghai Pride organisers (Jun 15, 2009):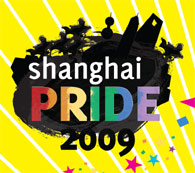 Shanghai Pride, mainland China's first gay pride festival, has concluded on June 14, 2009 with an estimated total attendance of 3,000 spread over eight days of activities. A grand total of RMB 15,380 was raised for the Chi Heng Foundation, a non-profit organisation committed to HIV/AIDS prevention work among men who have sex with men and help to AIDS orphans.
The festival kicked off on June 7 with a screening of a documentary entitled Queer China 《誌同志》which offers an in-depth look at gay China from ancient to modern times, produced by Chinese director and film academic Cui Zi'en (崔子恩) whose 2005 attempt at a gay and lesbian festival in 2005 was aborted before it was started. Other events in the festival panel discussions with Professor Gao Yanning (高燕宁) of Fudan University and Professor Wei Wei (魏伟) of East China Normal University, as well as art shows, film screenings, literary hours and sports events held at private venues.
The highlight of the weeklong fest was a garden party held at Cotton's Restaurant and Bar on Xinhua Road on Saturday which kicked off with a muscleman competition and featured performances by local drag queens, capoeira performances, Chinese dance, Peking opera, games, and a silent auction. The mood at the party was highly festive, and the event attracted a standing-room-only crowd - many of whom have travelled in from other parts of China - from 2pm to 10pm. At the end of the evening, renowned Chinese jazz singer Coco Zhao (赵可) took the stage and belted out several tunes for the highly enthusiastic crowd before three lesbian couples and one gay couple celebrated their union in a commitment ceremony witnessed by the local gay community - a highly emotional moment. The day's festivities ended on a high note with a dance party held at a separate venue on the Bund that ended in the wee hours of the morning.
While the Chinese mainstream media has remained relatively silent despite attempts by festival organisers to get in touch with them, gay and lesbian websites and forums on the Chinese mainland have taken an intense interest to the week's festivities, and Chinese bloggers were quick to translate all reports of the event by the press, including an unprecedented report found on the front page of the China Daily, the national English-language newspaper, and a separate commentary lauding the festival as a "showcase of the country's social progress" and an "event of profound significance for the country and the world".
Said festival spokeswoman Hannah Miller: "We are absolutely overwhelmed by the enthusiastic show of support that we've received and we would like to commend the local authorities for their light-handed approach in handling our events. Many of our friends in the local gay community who have previously been unwilling or fearful of coming out now feel greatly encouraged that there is space for China's 50 million gay people to live and celebrate their lives their own way. Just a few years ago, this event would have been utterly unimaginable, but the success of Shanghai Pride is testament to China's growing tolerance and diversity today."
Festival organisers remain hopeful that a similar event can be hosted in 2010, but no concrete plans have been announced yet.