A shooting at a gay and lesbian community center in Tel Aviv in which three were killed and 10 wounded has rocked the gay community in Israel. Tel Aviv is known to have a bustling gay scene although open homosexuality is less welcome in conservative areas.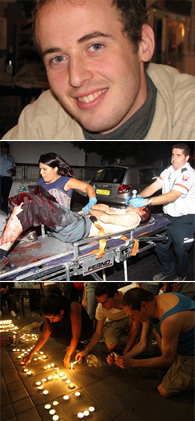 [Top: Nir Katz, a 26-year-old youth cousellor was one of two people killed on the scene; last image: hundreds held a vigil at near the centre hours after the attack. Click on this link for more images at the scene.]
Media reports quoted witnesses as saying that a masked gunman clad in black entered the centre on Nahmani Street and opened fire with his pistol at about 10.40pm on Saturday night in a basement club belonging to the Tel Aviv Gay and Lesbian Association, which was hosting a weekly event for gay and lesbian teenagers. He then fled the scene on foot.
According to an Agence France-Presse (AFP) report, the third victim died in hospital while one of the 10 wounded is in serious condition.
Police spokesman Mickey Rosenfeld identified the two who were killed as Nir Katz, a 26-year-old man, and Liz Tarbushi, a 16-year-old self-described straight ally. "Although I am not a part of the Igy [lesbian gay youth] community I really love being with them," Tarbushi wrote on the youth organisation's online forum a few months ago.
Katz is a reportedly a gay activist and youth counsellor at the centre. His sister Chen was quoted as saying in the San Francisco Sentinel as telling Army Radio on Sunday: "Nir came out of the closet when he was 20, and since that moment wore the flag of gay pride on his sleeve, believed in what he was doing and always walked with his head held high."
Police are treating the shooting as a hate crime, Rosenfeld said.
Prime Minister Benjamin Netanyahu on Sunday has strongly condemned Saturday night's deadly shooting attack and urged all Israelis to "respect all people as they are."
President Shimon Peres on Sunday called the incident a "shocking murder… in which a civilised and enlightened nation cannot accept."
"Murder and hatred are the two most serious crimes in society. The police must exert great efforts in order to catch the despicable murderer, and the entire nation must unite in condemning this abominable act," the president said.
Nitzan Horowitz, an openly gay legislator, told the Haaretz Newspaper that the shooting should be considered a hate crime against the community - regardless of the real motive of the gunman.
"Someone who goes in with a mask, with the goal of killing as many gay young people as possible, has committed a hate crime."
"We will continue our activities. We will fight back at anyone who tries to kill us. Years of unremitting incitement from MKs [Member of Knesset (Israeli parliament)], rabbis and public figures have exacted a heavy price," he continued.
He said that he had no doubt there was a connection between the latest killings and what he termed incitement against the gay community in Israel.
"I attribute this to the general incitement and hate with which we have been contending for years in this community."
The Haaretz reported that within 90 minutes of the attack on the center, hundreds of people gathered nearby, spontaneously. Some embraced one another and cried.
Said Nadav, 31, who arrived at the scene with his partner: "We thought these children were growing up in a different world from the one in which we lived at their age. But it was actually they who suffered a blow, which we never knew even in the darkest periods of the past."