On Oct 22, 2007, Siew Kum Hong, then a Nominated Member of Parliament (NMP) read a petition against the country's ban on sex between men during a parliamentary sitting to debate the Penal Code (Amendment) Bill. It also marked the first time a petition of any kind has been presented in the country's parliament. Siew presented the petition on behalf of George Hwang, Dr Stuart Koe, Tan Joo Hymn, who were among 2,341 valid signatories.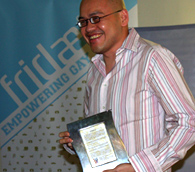 Siew Kum Hong receives the 2009 Dignity Prize at the opening of Indignation, Singapore's month-long gay pride festival which runs till Aug 30. Photos by Sylvia Tan,
Siew was named the winner of the 2009 Dignity Prize, a biennial award presented by gay advocacy group, People Like Us, on Saturday evening at the opening reception of Indignation, Singapore's annual gay pride festival. Organisers say the prize serves to recognise the contributions of an individual in Singapore who has spoken up for equal rights for LGBT people.
Aside from arguing that the continued retention of 377A to be unconstitutional, he said in his 30-minute speech: "Contrary to how many have sought to frame the issue, the repeal of 377A is not a gay issue. It is not about gay rights. It is not just for gays, or friends or relatives of gays.
"It is about fairness, justice and non-discrimination. It is about tolerance, understanding and inclusiveness. It is about upholding the fundamental protections afforded by the Constitution, the basic pillars underpinning our country. These are issues for all Singaporeans."
Siew, 34, an in-house legal counsel for a multi-national company in Singapore, completed his two and a half year term was an NMP in July. His application to serve a second term was turned down.
He also recently came under fire for offering legal advice to the so-called 'Old Guard' of the Association of Women for Action and Research (AWARE) after they were ousted after a leadership tussle orchestrated by a group of women exposed by the local media as being led by lawyer Dr Thio Su-mien, and many of whom have links to the Church of Our Saviour. The women who hijacked AWARE accused the women's group of promoting homosexuality and opposed AWARE's Comprehesive Sexuality Education programme which taught contraception and noting in an the instructor's guide that homosexuality should be seen as a 'neutral' - and not a 'negative' - word. The saga dominated news headlines for weeks in the local media. (Dr Thio is the mother of Thio Li-ann who withdrew from teaching two classes at New York University after students protested her appointment as a visiting professor. The younger Thio is widely seen as the most vehement voice against the repeal of Section 377A in parliament in 2007.)
Siew, who is heterosexual and recently married, told Fridae: "I think it's an honour to receive the prize. When Alex first called me to inform me that PLU wanted to award the prize to me, I joked that he was stereotyping me, before telling him that of course I would be honoured.
"To this day, there's a part of me that feels like all I did was to speak about this in Parliament, and in comparison the previous winner Rev Yap Kim Hao has done so much for the GLBT community. But whenever I think back to those days in October 2007 and also when I talk and listen to some of those in the community, I realise just how much it all really meant, both to GLBT and straight folks, and I feel really, really proud and privileged to have been part of that moment.
"Whatever's happened since doesn't detract from that at all. I think it's so easy for people to fall into the convenient trap of thinking of 377A as being about gay rights or GLBT rights - but it's not. It's really about human rights. That's why I spoke up and I think that's why so many other straight people spoke up as well. The prize is for those who have spoken up for the GLBT community, so presumably it is for straight folks. And so this award from PLU isn't just about what I have done individually, it's also an affirmation of the reality of this struggle being one for all Singaporeans who care about and believe in human rights and non-discrimination. And I hope that the GLBT community realises that there are a lot more of us out there than may be apparent."
Siew in his own words about getting involved in the petition in 2007:
"Sometime in 2007, George Hwang got in touch with me and asked if I was willing to present a citizens' petition to Parliament. I was intrigued because I wasn't familiar with that procedure at all - I had read the Standing Orders, but obviously it didn't stick in my head. So I went back to the Standing Orders and read them again, and the potential impact of what George was suggesting dawned on me. I realised that, for the first time, this was a chance to show that Singaporeans are not as supportive of discrimination as the government always insisted they are. I did not know this for a fact, and really I had nothing other than a hunch to go on, but I felt that 377A was so intrinsically and inherently unjust, that surely there would be a lot of Singaporeans who agreed with me, who have never really had a chance to articulate their views.
"Once I had that epiphany, I knew I simply had to agree to George's request. I had already decided that I would speak in the debate (and to argue for repeal), but this sealed the deal. Like I've said before, it was simply the right thing to do. The thing to remember is that my path to being an NMP can be traced back to this issue as well. I believe I was appointed because of my track record in writing news commentaries for TODAY, which I did between 2003 and 2007. And I started doing that in 2003, only because I had gotten quite incensed by a badly-written and poorly-reasoned newspaper article that was published in a local paper sometime that year, and I drafted a joint letter to the newspaper which I circulated to everyone I knew urging the straight folks amongst them to sign, and that letter ended up on the desk of the TODAY editor-in-chief at that time (Mano Sabnani) who liked my writing style and invited me to start writing for TODAY. (For the record, the letter was submitted with 32 signatures but was never published.) With that historical background, when this came up in 2007, I could not in good conscience say no to George."