Bantamweight boxer Worapoj Petchkhoom, who brought home a silver medal at the 2004 Olympics in Athens, is the middle of a controversy in Thailand after appearing on the cover of the July edition of Stage, a gay lifestyle magazine.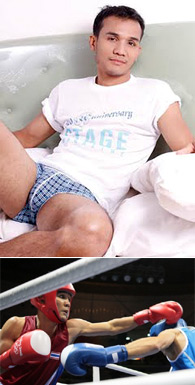 Worapoj Petchkhoom is one of Thailand's most popular and best known sportsmen after winning a silver medal at the 2004 Olympics in Athens. Above: Worapoj (in red) at the 2008 Olympics in Beijing.
Quoting the Thai-language Khaosod newspaper, Muaythai Magazine reported that the 28-year-old 2012 London Olympics hopeful has been banned from amateur boxing for three months by the Amateur Boxing Association of Thailand (ABAT) as a punishment for modeling for a gay magazine.
The report quoted ABAT president General Taweep Jantararoj as saying at an Aug 26 press conference that that the ban will bar Worapoj from representing Thailand in the upcoming Southeast Asian (SEA) Games in Laos at the end of this year.
Since the matter was reported locally, Worapoj has said that he regards the images to be "sporty" rather than obscene; and is not gay.
Taweep agreed that although the images which show the boxer clad in his underwear are not considered obscene, he has tarnished the reputation of the national athletes.
According to online reports, Worapoj said that he was paid B15,000 (US$440) and did not know that the magazine was aimed at the gay market.