Taipei's gay pride parade, with a turnout of 18,000 last year, is Asia's largest.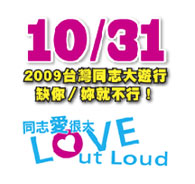 The Taiwan Pride Parade organised by the Taiwan LGBT Pride Community, a coalition of LGBT and civil society organisations including Taiwan Tongzhi Hotline Association and Gender/Sexuality Rights Association, Taiwan, will be held on Oct 1.
First held in 2003 with some 500 participants, the event grew quickly to 3,000 the second year and 5,000 the third.
The parade will begin at Kaidagelan Boulevard (in front of the Office of the President), going through Ai-Guo W. Rd., Chung Hua Rd. and passing several LGBT historical landmarks, before returning to Boulevard where a concert and party will be held. Malaysia-born pop singer Fish Leong (梁静茹), who is widely popular in the Chinese pop scene after launching her career in Taiwan more than a decade ago, has been named the "Rainbow ambassador" and will perform at the concert.
The organisers will donate 20% of personal donations to help rebuild the tribal villages devastated by Typhoon Morakot when it slammed into Taiwan on August 8.
Love Out Loud! The Power of Love Conquers Discrimination
Date/Time: Oct 31 (Sat) / 2pm
Assembly begins at 1pm
Assembly Area: In front the Office of the President (Kaidagelan Blvd.)
Route: Kaidagelan Blvd → Ai Guo W. Rd → Chunghua Rd → Hanko St → Guanchien Rd → Zhongxiao E. Rd → Gongyuan Rd → Kaidagelan Blvd